If you're like me, you have started a small collection of old memory cards that you no longer use either because they have too little capacity, or because your latest camera uses a different memory card type. Enter MediaGear's See-Through XtraDrive.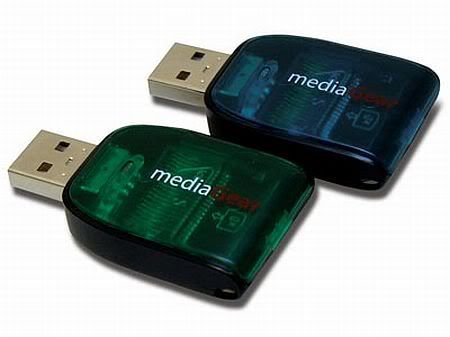 PRESS SUMMARY
New life for old Memory cards: MediaGear's See-Through XtraDrive - digital camera and photography newsMediaGear Launches New See-Through XtraDrive That Turns Your Unused Flash Memory Cards into Convenient USB Drives
SANTA ANA, Calif. --(Business Wire)-- May 3, 2005 MediaGear announced the next generation of its popular Keychain drives called "XtraDrive", to help satisfy the growing consumer demand for convenient extra USB flash drives created from unused memory cards.
XtraDrives have a colored, transparent cap that allows the user to see if a media card is installed. Also, to eliminate crowding of several drives together on a PC or notebook, the XtraDrive package also includes a USB adapter cable.
"Photographers have an abundance of old memory cards that are no longer used because of their low megabyte storage. The new XtraDrive gives these outdated memory cards a brand new life," noted Terry Smith, VP of Marketing at MediaGear.
"Most new cameras come with a 16 or 32 MB card and the photographer quickly moves up to higher capacities - especially now that prices are dropping. The digital camera user can pop these outdated flash memory cards into a compatible XtraDrive and easily load and transfer data or photos from computer to computer via the USB ports," continued Smith.
An added bonus of this new generation of Keychain drives is the inclusion of an 18" USB cable for use when slots on the computer are too cramped for space.
"The new XtraDrives are great looking too. We went for see-through colorful, gem tone caps that are visually appealing, but more importantly allows the user to see if a memory card is already inserted into the drive," added Smith.
Retail pricing is: $14.95 MSRP. The new USB-compatible XtraDrives is currently available at Office Depot, MicroCenter and Fry's Electronics, and from the MediaGear website (http://www.mymediagear.com).
The drives can accommodate most card formats including Secure Digital (SD), MultiMediaCard, Sony Memory Stick, Compact Flash Types I and II, MicroDrives, SmartMedia and xD.