Konica Minolta
, as well as other camera makers, has entered the market of the digital reflex cameras with the new 6 megapixel Dynax 7D, a competitor of Canon 20D, Nikon D70, Fujifilm S3 Pro and Olympus E-1. It's the first digital reflex made by Konica Minolta after five years (the previous RD3000 was launched in the year 2000).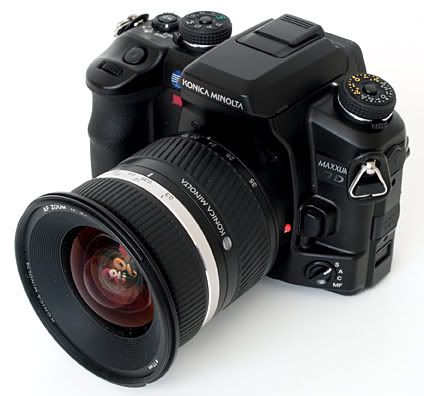 PhotoCameraMagazine have reviewed the
Maxxum 7D
and had this to say-
"The Dynax 7D is a complete camera; despite its being the entry of Konika Minolta in the digital reflex cameras market (not considering the RD3000, which has long been out of production); this bears witness to the long experience of the Japanese firm in photography.

This camera suits the needs of both professional and and advanced amateur users. The camera has a very traditional look, to such an extent that it cannot be distinguished from a reflex film camera, except for the LCD display. Considering the ergonomics, the Dynax 7D is one of the best cameras tested so far, yielding a great image quality."
Click to read the rest of this review...