Konica Minolta today introduced a new member of their DiMAGE X series of cameras. The newest addition to the X range appears more sturdy in comparison to the X50 and the reflective and brushed metal sliding lens lends it a more sophisticated look. This entry-level camera does away with a viewfinder in favor of a 2.5-inch LCD, which dominates the rear. It also boasts a 5 cm macro mode, 0.5-second start-up time and Automatic Digital Subject Program Selection.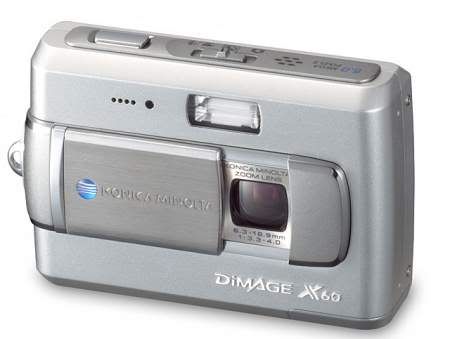 From the press release-
Konica Minolta Photo Imaging U.S.A., Inc. introduces the latest incarnation of its popular X-series digital cameras – the new DiMAGE X60. This slim, stylish and fast 5 megapixel digital camera features a large 2.5-inch LCD monitor, fastest-in-class*1 startup time, 3x optical and 4x digital zoom capability, automatic Macro and Super Macro capability, Automatic Digital Subject Program Selection, and 15MB internal memory.
"The stylish and very easy-to-use new DiMAGE X60 digital camera has been designed so today's snap shooters won't miss a single photographic opportunity," said Todd Schrader, senior vice president of sales and marketing for Konica Minolta Photo Imaging U.S.A., Inc. "This camera is so lightweight and slim, it can be easily carried every day in a shirt pocket or a purse."
With its non-protruding zoom lens, the compact Konica Minolta DiMAGE X60 is ready in an instant—thanks to the approximately 0.5-second startup time—to take those spur-of-the-moment shots and ensure that users never miss a desired photo. And the camera's sliding cover protects the lens, so there's no need to worry about putting the camera inside a pocket or purse. The camera's Automatic Digital Subject Program Selection automatically selects the optimum-shooting mode for the subject at hand, allowing photographers to take beautiful photos that match the needs of the particular photographic scene.
The DiMAGE X60's 5-megapixel CCD and proprietary Konica Minolta CxProcess™ III image processing technology combine to provide photographers with high quality images— pictures that reproduce the natural colors as faithfully as they see them with their own eyes. The camera's zoom lens range covers everything from wide-angle shots to close-ups that are clearly focused as near as4 inches from the subject, without the need to switch to macro mode. If a photographer needs to get even closer, the DiMAGE X60 also features a Super Macro mode to take extreme close-ups as near as 2 inches.
Click to read the rest of the Konica Minolta DiMAGE X60 press release...