The new
Kodak Z740
features a 10X optical zoom and a 5-megapixel resolution, and a offers a redesigned set of external controls when compared to the DX 7590, the model it replaces.
The
Kodak Z740
captures images with a 1/2.5 inch CCD sensor composed of 5.36 million pixels of which 5 million are effective, and producing a maximum image size of 2579 x 1932 pixels. The CCD's sensitivity can be set to Auto when the camera is used in with the P, A, S and M modes, allowing the camera to adjust it over a range of 80 to 160 ISO.
The lens of the Z740 has similar characteristics to the Schneider-Kreuznach zoom that was used with the DX7590, but is Kodak-made.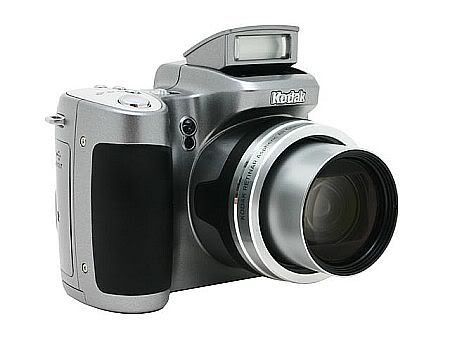 Megapixel.net just posted their review of this digicam and have this to say about it-
If in many ways the new Kodak Z740 has similar characteristics to the DX7590, the model it replaces, it also has both internal and external changes, which can be described as additions, subtractions, and some cost-cutting measures intended to arrive at a lower price point.
The good-
* Good image quality.
* Very good colour rendition.
* 10X optical zoom.
* Reliable autofocus.
* Easy to use.
The bad-
* Compression a tad too strong.
* No stabilisation.
* A bit noise sensitive.
Click here to read the full review...