The
EasyShare Z700
is the low end of Kodak's new "Z" line of consumer-oriented EasyShare digital cameras. It features a 5x optical zoom and 4 MP CCD imaging chip, which are smaller than the 10x lens and 5 MP sensor on the higher-end EasyShare Z740. The fixed LCD screen is also a bit smaller than the Z740's. There are other differences between the cameras, but they aren't major. The two cameras are built for the same market and serve the same basic functions with an overwhelming simplicity.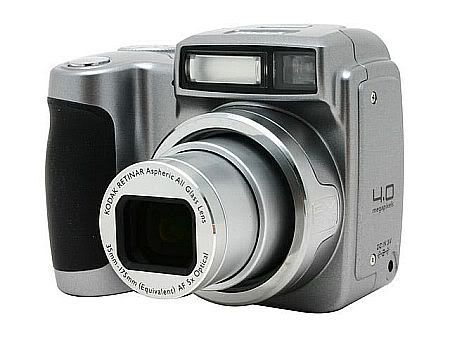 DigitalCameraInfo today posted their review of this digicam. They provide a full examination of this digicam, and here is one small portion-
"It's easy to take snapshots with the Z700, and with the printer dock, it's easy to print 4 x 6-inch prints of them, and easy to get the prints onto a computer or uploaded to Kodak's online services. Kodak has been remarkably thorough in creating a system that really is self-explanatory. At moments when you'd need to read the manual with lesser devices, the Z700 provides a helpful hint right on the camera's LCD screen. The camera's poor resolution and limited manual controls are irrelevant to folks who will use it to make small prints and 50-kilobyte JPEGs for e-mailing. What's for sale here is an easy-to-use integrated system – an environment, really – for taking pictures with as little bother as possible and gaining instant results and prints. Little effort and little work are needed to run the gamut on the Z700. This will be an ideal and affordable alternative for the right type of user."
Click here to read the full review...