The affordable, four-megapixel, 6x digital zoom HP Photosmart M22 Digital Camera with HP Instant Share allows users to capture true-to-life digital photos. It features exclusive HP Real Life technologies, including adaptive lighting technology, in-camera red-eye removal, in-camera panorama assist and preview and HP Image Advice.
The HP Photosmart M22 supports picture taking in a variety of conditions and locations due to its weather-resistant, durable, all-metal case that is small enough to fit in a pocket. Multi-zone auto focus provides sharp, clear photos by searching for focus in several areas of an image to capture the best shot. Adaptive lighting technology to adjust high-contrast photos to bring faces out of shadows and details out of backgrounds.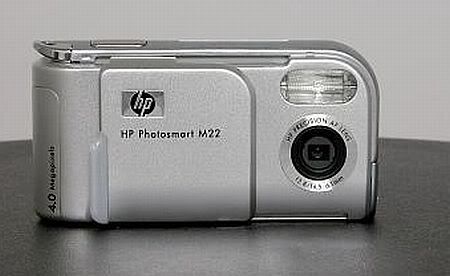 Stseve's Digicams have posted their review of this digicam and have this to say-
"Bottom line - the PhotoSmart M22 will make a great choice for those who are just entering the digital world or want a replacement for all those disposable film cameras. It's easy to use, has good image quality, and slides into almost any size pocket or purse. Just make sure you watch where you put your fingers when framing a picture. With a street price of about $149, it offers a good value and would make a great gift choice for a friend or family member who doesn't need a more advanced digicam."
Click here to read the full review...