The
Casio Exilim EX-Z750
is an ultra compact camera with a 7.2 Megapixel CCD, 3X optical zoom lens, large 2.5" LCD display, high quality movie mode, and much more. The Exilim EX-Z750 is an ultra-compact camera made almost entirely of metal. With the exception of the usual cheap-feeling door over the battery/memory card compartment, it feels very solid. It fits well in the hand, though the positioning of the mode dial right where your thumb rests could lead to accidentally putting the camera in the wrong shooting mode. Being an ultra-thin camera the Z750 can go anywhere that you do.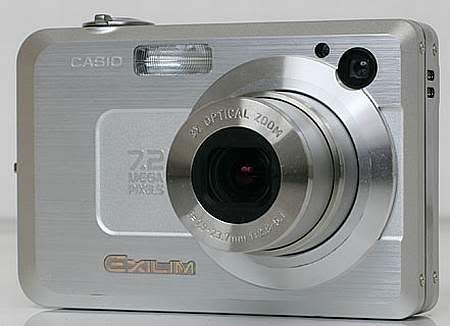 Digital Camera Resource Page have posted their review of this nice little digicam and have this to say about it-
"The Casio Exilim EX-Z750 is a very nice 7 Megapixel ultra-compact camera with a few annoying flaws. First, the good points. The Z750 is compact, made of metal, and is well constructed. It fits easily in your pocket and can go anywhere you do. The camera has a large 2.5" LCD display and a tiny optical viewfinder. While the screen is big, the resolution is not, and low light visibility is not very good either. Camera performance is excellent. The Z750 starts up in just one second and focusing, shutter lag, and shot-to-shot speeds are all very good. The camera's AF-assist lamp helped it focus well in low light situations. Battery life is superb compared to most other ultra-compacts.
...
Overall the EX-Z750 gets my recommendation. I would probably lean toward the Canon SD500 as the best camera in this class, though it lacks many of the manual controls that the Z750 offers. And don't write off the Nikon Coolpix 7900, either. The bottom line is this: all three are good cameras, each with their own strengths and weaknesses. You need to weigh all these things for yourself and then decide which camera suits your needs the best!"
Click to read the rest of this review...