Digital Camera Resource Page
have posted their review of the Casio Exilim EX-P505, a unique digicam in that it is both a still camera and a camcorder. It is also a lot smaller than it appears here.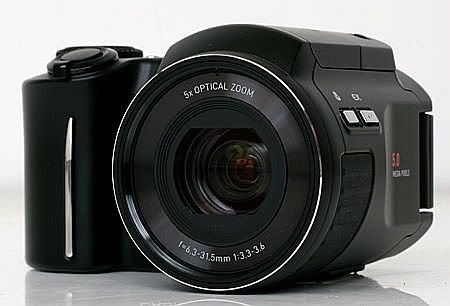 They have this to say about this digicam-
Like the Sony Cyber-shot DSC-M1, the Casio Exilim EX-P505 is a good concept that needs more refinement. Casio has tried to combine a digital still camera and a digital video camera, and they did a better job than Sony. However, the P505 has quite a few flaws and is overpriced at $500.
The P505 is a fairly compact camera with a 5X zoom lens. The build quality leaves much to be desired, though. The body is made almost entirely of plastic and it feels very "cheap" in your hands. The mode dial and the battery/memory card slot cover are especially flimsy. Still, the camera is very light and it can be used easily with just one hand. The lens is self-contained so it never extends out of the body. That means that you can use it while recording movies! The camera has a 2-inch LCD display that can flip out to the side and rotate -- which is handy -- though there's no optical viewfinder to be found.
Camera performance is above average in almost all areas, except in low light. The camera had a horrible time focusing, and you couldn't see anything on the LCD either. The camera has a very nice 1 cm macro mode and the movie mode is truly top notch. Video quality is excellent, sound is recorded in stereo, and there are several different ways in which you can record movies. Mac users be warned: you'll have to work a little in order to playback the videos. And I'll be damned if I know how to get them into iMovie or Final Cut Pro. One thing that surprised me about the P505 is that Casio left out a burst mode. You will, however, find manual controls plus tons and tons of scene modes (even in movie mode).
Photo quality is decent, but it could be a lot better. My biggest gripe is the noisy/grainy look to the images, which you'll notice in all of the shots in the gallery. Redeye was also a problem. I have two final complaints about the camera. One, Casio builds an embarrassing amount of memory into the camera: just 7.5MB. Who are they kidding? And second, they really need to stop with the whole "full manual on CD" thing.
While an intriguing concept, I think there are better cameras out there than the Exilim EX-P505. With a little work, Casio could have a real winner on their hands, but for now I think you could spend $500 on something better.
Click here to read the full article...