The
Canon Powershot SD400
features the DIGIC II processeor found in Canon's pro digital SLRs and sports a large 2.0-inch LCD which has a QuickBright function that temoporarily brightens the LCD so it should be easier to view in bright conditions. The SD400 also has a 'hold' function which displays newly capture images for longer and then allows them to be deleted without switching to playback mode.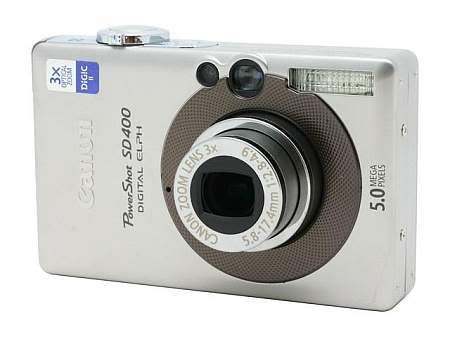 Steve's Digicams today posted his review of the SD400 and had these comments-
"The SD400's image quality is excellent. It produced well saturated and accurate colors, and consistently good exposures. The ISO sensitivity is adjustable from 50, 100, 200, 400 or the camera can control it Automatically. Noise is absent from ISO 50 shots. At ISO 100, noise is detectable in shadow areas, and at ISO 200 noise becomes noticeable throughout the image. At ISO 400 noise becomes more prominent in highlight areas, but the images are usable. If you shoot night pictures you'll appreciate the "Long Shutter" option that gives you access to shutter speeds ranging from 1 to 15 seconds. To insure the best possible image, Noise Reduction is automatically applied when the shutter speed is 1.3 second or longer. In addition to an excellent automatic white balance there are presets for sunny, cloudy, incandescent, fluorescent, fluorescent H (daylight temperature) and a one-push custom setting for use with a white or grey card.
...
Canon has produced a long line of successful Digital ELPH cameras, and the SD400 is no exception. It would be a perfect companion during family events and travel, capturing high-quality images without any fuss while creating barely a bulge in your pocket. At a street price of under $400, the SD400 is not inexpensive, but it offers a compelling value to those who need its combination of small size, high resolution, terrific image quality and style. If you like the SD400's size and features, but desire a camera with more resolution, consider the Canon PowerShot SD500; it offers 7-megapixels of resolution in a slightly larger body for $100 more."
Click to read the full review of the
Canon Powershot SD400
.