The Canon PowerShot A510 is a great choice for novice camera users but also includes aperture priority, shutter priority and full manual exposure modes, manual focusing, spot metering, AA batteries and it even comes with a digital zoom set to off as a default. Of course, it also has a full auto mode and a wide selection of scene modes and program modes. It also has a useful 4x optical zoom, equivalent to a 35-140mm zoom on a 35mm film camera. I would have liked a little more range at the lower end, but very few digital compact cameras go wider than 35mm, and some don't even do that. Trusted Reviews have posted their review of the Canon PowerShot A510 and have this to say-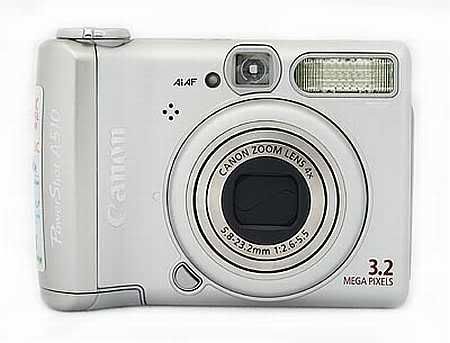 "As is usually the case with Canon cameras, if the A510 had any faults they would be more than offset by the excellent performance and picture quality. The camera starts up in approximately two seconds, which is reasonably quick, and in continuous drive mode it can shoot at an impressive two frames per second for between 10 and 20 frames, and then at about one frame per second until the memory card is full. By contrast, the movie mode performance is rather average, shooting at 640 x 480 resolution at a slow and jerky 10fps, or at 320 x 240 resolution at 15fps, which is still slow and jerky.

Battery life seems to be generally good, although I was able to wear out a pair of Duracell Ultra M3 cells in a long day of shooting and reviewing about 100 pictures. To get the best out of it you'll need at least two sets of high-performance Ni-MH rechargeables, so you can carry a spare set as well.

With a maximum image size of 2,048 x 1,536 the A510 is best suited to 6 x 4in snapshot prints, and it's also fully compatible with Canon's new Selphy compact photo printer, available separately."
Click here to read the full article...