The Lumix DMC-FZ5 is Panasonic's replacement for the FZ3 which is very closely resembles. Of course the FZ5 sports a 5 megapixel sensor and a huge 12x image-stabilized Leica zoom lens.
DPReview
have released their review of this digicam and have this to say about it-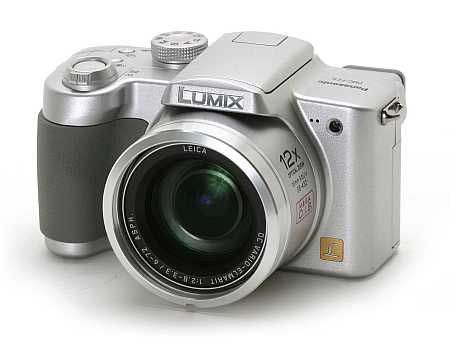 "Aside from the boost from 3 to 5 million pixels (bringing it in line with the high-end DMC-FZ20), the FZ5 has a range of relatively minor changes over the FZ3, including longer battery life, a repositioned shutter release and improved grip design, larger LCD screen, orientation sensor and a new fast focus mode, which Panasonic claims gives a 30% improvement on the previous model.

The DMC-FZ5 solves the only two reservations most people had about its predecessor (the DMC-FZ3); fairly low pixel count and slightly sluggish focus (especially at the long end of the zoom). It also adds a bigger, better screen, slightly better ergonomics and seems to have almost entirely removed the vignetting problem that plagued FZ3 shots. Put all these improvements together and you've got an incredibly powerful, incredibly compact camera capable of punching well above its weight. In fact, unless you really want a big camera, or really need manual focus or external flash, I wouldn't hesitate to recommend the FZ5 over the hugely popular, but more expensive, FZ20 - such is the small difference in image quality and overall performance (and with near-SLR speed focus the cheaper camera is much better in one important respect).

There is so much to like here - and so little to complain about - that the DMC-FZ5 has to come highly recommended, and certainly has to make its way to near the top of the list for anyone looking for an affordable, compact super zoom camera."
Click here for DPReview's Panasonic Lumix DMC-FZ5 review