Megapixel.net
have reviewed the uniquely designed
Olympus E-300
dSLR which utilizes the four-thirds lens system.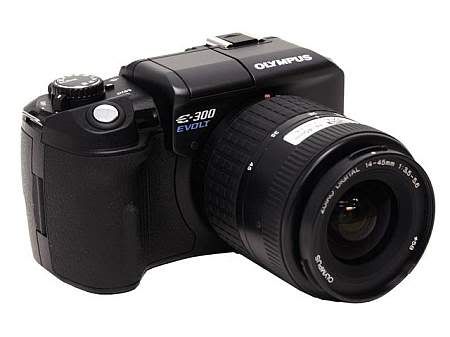 The Olympus Evolt E-300 uses an 8.88 megapixel CCD — of which 8.0 megapixel are effective — that measures 17.3 x 13mm and yields a maximum image size of 3264 x 2448 pixels and has an excellent ergonomic design thanks to its size, shape, and its unusually positioned TTL optical viewfinder, all of which allow controls to be comfortably separated.

One of the characteristics of the E-300 is its undeniable quality of construction. The finishing is perfect and the camera has a solid feel that highlights the fact that it is able to support some heavy professional lenses as well as the lighter ones designed for the general user.

Some aspects of the E-300 clearly earmark it as a worthwhile and even an innovative camera. It offers an 8 megapixel image size, and an image quality that comes close to some of the best digital SLR cameras currently available. Moreover, as the 4/3 system gains acceptance, the E-300 will be compatible with the lenses of other manufacturers.

But, while it features a viewfinder design that has the benefit of allowing for a more compact body, the E-300, like the E1 before it, still does not fulfill the early promise of the 4/3 system of more portable interchangeable lens cameras. And, that may well reduce it's appeal when compared to other digital SLR's.
Click to read the rest of this review...