Another
review has come out on the Olympus C-7070 Wide Zoom
, this one is from the highly regarded site Steve's Digicams.
Also see from DCRP their
review of the Olympus C-7070 Wide Zoom
if you didn't get a chance to read it or
this one from megapixel.net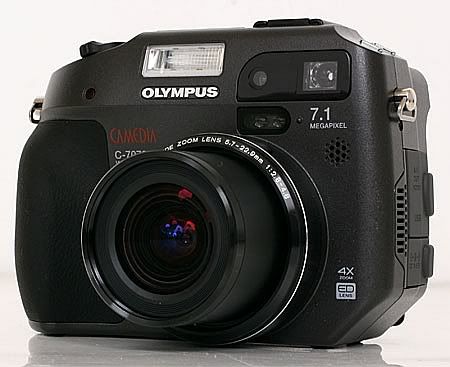 "The Olympus C-7070 Wide Zoom combines professional features and a high quality wide angle lens in a compact, rugged, magnesium body. The wide angle zoom has a 35mm equivalent focal length coverage of 27mm to 110mm and lets photographers frame more of the subject into their composition. With a high-resolution 7.1-megapixel CCD, photographers can produce larger than life prints with amazing vividness. Two new Autofocus (AF) modes enable photographers to capture sharp photos of subjects in motion, so no photo opportunities are missed.

Olympus cameras are known for sharp, vibrant images thanks to a number of advanced technologies, beginning with Olympus' high-quality all-glass lens designed specifically for digital camera sensors. And Olympus' exclusive TruePic TURBO™ Image Processor suppresses noise and boosts image definition so that prints can be cropped and enlarged up to 16 x 20 inches. The C-7070 features a Super Macro mode that enables shooting from as close as 1.18 inches.

No matter what you want in the way of features this camera has got it -- from the point and shoot simplicity of Program AE (with shift) to Shutter speed priority (4 to 1/2000 seconds), Aperture priority (F2.8 to F11) or full Manual with shutter speeds as long as 15 seconds plus Bulb and as short as 1/4000 second. Exposure metering options include matrix, spot, center-weighted, and a unique multi mode that lets you take individual readings from up to 8 points to calculate the final exposure. Its accurate Autofocus system is complemented with a manual focus mode having a distance gauge and a magnified central-LCD display to aid in critical focusing. White balance options include Auto, Shade, Cloudy, Sunny, Evening, Incandescent, Fluorescent 1,2,3,4 and manual Preset, plus a White Balance Adjustment which allows you to fine-tune the setting while observing its effect on the LCD's live image."
Click to read the rest of this article...