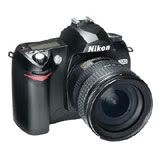 Suggesting new models are near, Nikon has announced several rebate initiatives to lure shoppers. The price has dropped on the Nikon D70 dSLR to $899.99 for the body and $1199.95 for the body and lens kit. Nikon released several spring rebates for most of their digital cameras. During the month of April, if consumers purchase the Nikon D70, they can receive an Epson Stylus Photo R200 printer for free.
For consumers who are not ready to enter the realm of digital SLRs, Nikon is offering several rebates for intermediate digital cameras. Between April 1 and June 30, the Nikon Coolpix 5400 comes with a $200 rebate, the Nikon Coolpix 8800 and 8400 come with a $100 rebate, the Coolpix 8700 comes with a $50 rebate, and the Nikon 4200 comes with a $30 rebate.
Nikon
announced a $50 rebate for anyone who purchases a digital camera with 3 megapixels or more and a select Epson printer. The following Epson printers can be purchased with this promotion: Stylus C86, CX4600, CX6600, Stylus Photo 1280, 2200, R200, R300, R320, RX500, RX620, R800, R1800 and PictureMate. This offer is available for a little longer than the D70 – from April 1 to June 30.