This is the camera that currently makes me drool. If you have 5 grand sitting around and buy this camera, you can watch me. I mean, this camera even has Wi-Fi. On to the goods...
The new
Nikon D2X
is the latest addition to one of the world's most famous camera lines. The new D2X updates the D1X model that hit the market in mid-2001. As you might expect, there's been a lot of development in the intervening three years between the two camera's respective releases, and the
Nikon D2X
is solid evidence that its maker is still very much a force to contend with in the professional SLR marketplace. While carrying a host of significant improvements and feature enhancements over its predecessor, resolution and shooting speed are probably the two features that will attract most photographers to the
Nikon D2X
. In its full-resolution mode, the D2X can capture five 12.2 megapixel (4,288 x 2,848) frames per second, a very respectable rate, at a very respectable resolution. Its unique "Speed Crop" mode reduces resolution to 6.8 megapixels (3,126 x 2,316) but boosts the frame rate to a blazing 8 frames/second, the equal of any other camera on the market, at least as of its release in late Spring 2005. This is an obvious shot across the bow of arch rival Canon, as the Nikon D2X in Speed Crop mode equals the speed of the flagship
Canon EOS-1D Mark II
, with better buffer depth and buffer clearing speed, and with only an ~8% reduction in linear resolution.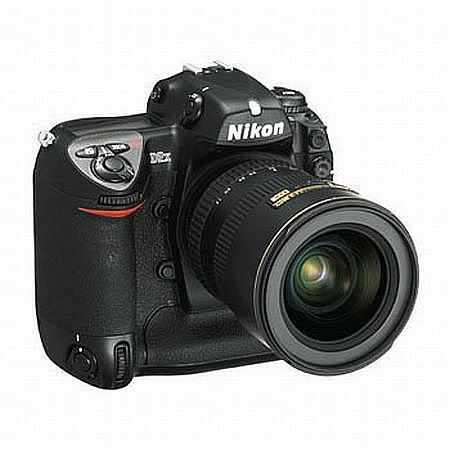 The Imaging Resource has delivered their review of this fine camera to us. I will only whet your appetite with a small portion of their review-
"With the release of the D2X though, Nikon has re-established itself as a leader at the high end of the pro SLR market. An amazingly versatile camera, the D2X is able to satisfy the needs of both studio and sports shooters, delivering excellent image quality, amazing dynamic range (particularly in the shadow end of the tonal scale), and the shooter's choice of either extreme speed at good resolution, or good speed at excellent resolution. Digital aspects aside, the Nikon D2X is also a superb shooter's camera, with an excellent "feel" in the hand and a fast and fluid user interface. Combine all this with Nikon's Advanced Wireless Lighting system for TTL metering with multiple strobe units, and the new WT-2A Wireless transmitter, and you have an array of capabilities that's all but unequalled. Kudos to Nikon on the D2X; I only hope they can build enough to meet demand."
Click here to read the full review of theNikon D2X ...