DPReview today posted their review of the Nikon Coolpix 7900, one of the best ultra-compact digicams available today which offers a 7 megapixel resolution, 3x zoom lens and a wealth of innovative features. It's available in black too.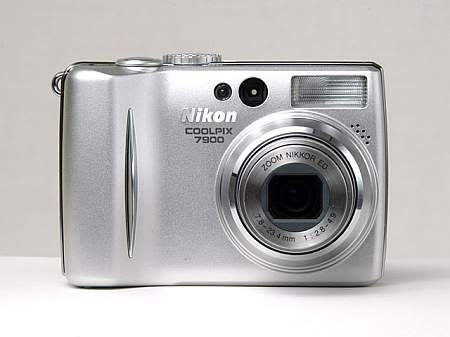 They have this to say about it-
"In an increasingly crowded 7MP compact market, the Coolpix 7900 has much to recommend it. Design, build and ease of use are excellent, and there is a surprising amount of power hidden in the extensive menus, offering control over focus, metering, white balance and so on for those who like to tweak. The novice market the 7900 is aimed at will surely welcome the hand-holding approach of the scene and scene assist modes, and the overall responsiveness makes using the camera a real pleasure. Features such as Best Shot Selector (which takes a burst of shots as you hold down the shutter, then chooses and saves only the sharpest one), D-Lighting, Face-Piority AF and In-Camera Red-Eye Fix (which works virtually every time) add value to an already well-priced camera."
Features:
7MP resolution
3x optical Zoom-Nikkor lens with ED elements (38-114mm equiv.)
In-Camera Red-Eye Fix
D-Lighting (in-camera shadow lightening)
Post-shot Blur Warning
16 scene modes
14MB internal memory
640x480 pixel, 30fps movie mode
Best Shot Selector - takes a series of shots and chooses the sharpest for you
White Balance and exposure bracketing
Available in silver or black (not all countries)
Click here for their review of the Nikon Coolpix 7900