DCRP
have provided us a twin review of the
Nikon Coolpix 5900
and 7900 as they are similar upper-end models in Nikon's point-and-shoot line of cameras.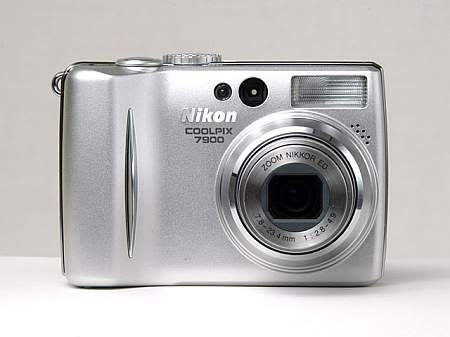 They have this to say about these cameras-
"The Coolpix 5900 and 7900 are compact but not tiny cameras (wait for the Coolpix S1 if you want that) with sturdy metal frames. They're easy to hold and operate with one hand, and they can go anywhere that you do. The Coolpix 5900 comes in silver while the 7900 comes in a more "professional looking" black. The Coolpixes offer a large 2.0" LCD that works very well in low light conditions. Photo quality on both cameras is very good, though I would up the sharpness to "high", since the images are a little soft at the default sharpness setting. The only other image quality issue I noticed is a tiny bit of blurriness in the corners of some of my photos. Camera performance is good in most areas including startup speed, focusing times, and shutter lag. Low light focusing was very good thanks to the cameras' AF-assist lamps. Battery life was also above average.

The Coolpixes are point-and-shoot cameras, with the very useful custom white balance feature being the only manual control. There are tons of scene modes available for almost every shooting situation, and the in-camera help system explains what the menu items are (though more detail would be nice). Both cameras offer an excellent VGA (30 fps) movie mode that can record until you run out of memory. Do note that a high speed SD card is needed for that, though. The Coolpix 7900 adds an electronic image stabilization feature as well to help "smooth out" your shaky videos". Two other nice things about the CP5900 and CP7900 are the D-Lighting digital flash (shown earlier) and in-camera redeye reduction features, both of which seem to work as advertised.

All-in-all though, I do recommend the Coolpix 5900 and 7900 to anyone wanting a compact point-and-shoot camera. A lot of people will be comparing the Coolpix 7900 with the Canon PowerShot SD500 and they are equal in many areas. The SD500 offers manual shutter speed control, better performance, and a sleeker design, while the 7900 has more scene modes, two bracketing functions, and control over things like sharpness and contrast. My advice is to try both in person to see which you prefer!"
Click to read the rest of this article...