Digital Camera Info
have posted their review of the
Konica Minolta DiMAGE Z20
Digital Camera with its 1/2.5 inch 5 MP CCD and 8x optical zoom lens. The controls for this camera are both well sized and well spaced, and an on-screen LCD menu provides ample visibility for easy alteration of manual controls and a fluid interface that is easily intelligible. Manual control settings include focus, white balance, exposure priority, aperture, shutter speed, EV compensation and flash, along with a few additional shooting options. Offering video recording capabilities, users of the
Z20
can capture VGA video at 15 frames per second or QVGA video clips at 30 frames per second.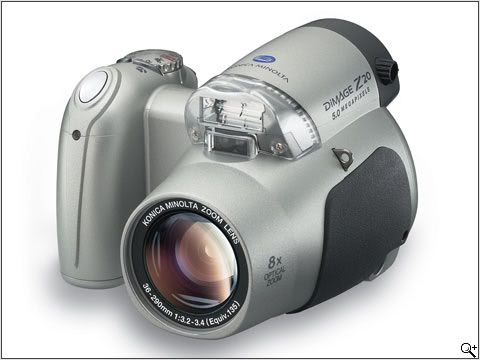 They have this to say-
"Retailing online for under $250 (USD), the Konica Minolta DiMAGE Z20 promises users both manual and automatic control possibilities along with the ability to capture still images in up to four images sizes while video records in two formats at up to 30 fps. With a 1/2.5 inch 5.2 total MP CCD, coupled with an extended 36-290mm (equivalent) zoom lens, the Z20 sells itself short (likely in the name of economics) with the lack of an image stabilization function. The camera performed acceptably at time, but showed some glaring weaknesses that will create problems for many users, primarily when using the automatic ISO and White Balance settings. To counter these flaws, users of the Z20 will have to take a more active approach and frequently engage the manual controls. This may not be desired for many users. The Z20 also does not offer audio recording capabilities, a major lack that is included on the slightly more expensive, Z5."
Click here to read the full review...