The Kodak EasyShare Z740 targets point-and-shoot users seeking more out of their camera without sacrificing simplistic functionality. Catering to the alternative point-and-shoot crowd, the Z740 emphasizes extended zoom, accessory functions, ease of use and manual options rather then the traditional diminutive measurements, large LCD and rapid video recording rate. Designed for accessibility, the Z740 provides a 10x optical 38-380 (equivalent) all-glass Kodak Retinar zoom lens, 1/2.5-inch., 5.36 megapixel CCD, and Kodak Color Science chip to ensure the highest quality with minimal effort.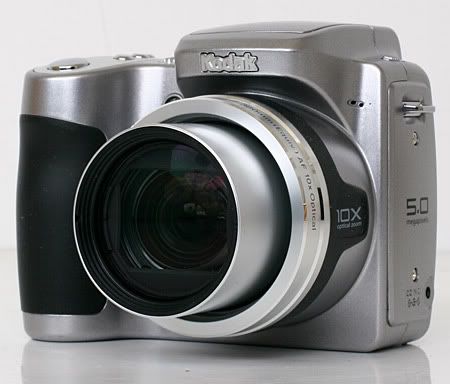 Digital Camera Resource Page
have posted a full review of this camera and say-
While it's not perfect, the Kodak EasyShare Z740 is a pretty good ultra zoom camera for people on a budget. It offers good photo quality, manual controls, an easy-to-use interface, an AF-assist lamp, and Kodak's famous EasyShare system.

Bottom line: I like the Z740 and it gets my recommendation, unless you take a lot of photos under unusual lighting. Fans of long exposures may also want to consider another camera, especially if my samples bothered you. While the Z740 isn't as good as the class-leading Panasonic DMC-FZ5 and DMC-FZ20, it costs a lot less and it's easier to use too.
Click to read the rest of this review of the Kodak EasyShare Z740 Digital Camera.