The folks at
CNET
have reviewed the
Kodak EasyShare LS753
and given this easy-to-use 5-megapixel snapshot camera a rating of 7.0 out of 10.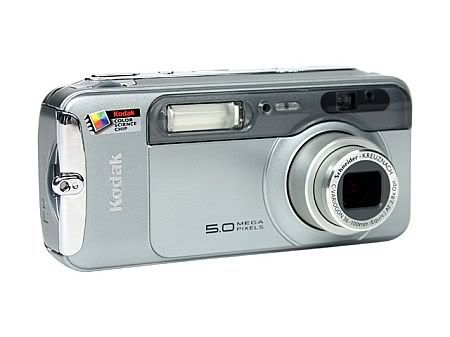 A short excerpt from the CNET review-
"Close-up shooting capabilities are extremely good. The LS753 focuses down to 2 inches in wide-angle mode and as close as a foot at the modest telephoto setting. Burst mode is equally impressive; the Kodak grabbed four shots in about 1.2 seconds. A few features are notable chiefly for their fun factor and their convenience. For example, the LS753 can automatically rotate vertically oriented photos for viewing when the camera is held horizontally and, at the same time, embed this orientation information in the file for the benefit of image software that can use it. The Share button makes it easy to tag images for an in-camera photo album or mark them for e-mailing to any of 32 e-mail addresses you've downloaded to the camera from your computer using the included EasyShare software. Less fun are the movie capabilities, which are limited to 640x480 pixels at 13fps or 320x240 pixels at 20fps, up to the capacity of the 32MB of internal flash memory or your SD card.

The LS753's performance is always at your fingertips because the camera is always ready to take a picture when powered up, even if you're navigating a menu or reviewing your previous shots. You don't waste a lot of time with shutter lag, which amounted to only 0.6 second under high-contrast lighting and a respectable 0.9 second under more challenging low-contrast illumination. Even with burst mode switched off, you'll wait only 1.4 seconds between shots (or 2.4 seconds with flash) until the roughly four-shot buffer fills."
Click here to read the full review...