The
FinePix F10
is a 6.3 MegaPixel Super CCD HR digital camera with Fujifilm's new
Real Photo Technology
for improved picture taking in low light situations, more efficient power consumption and faster overall operation.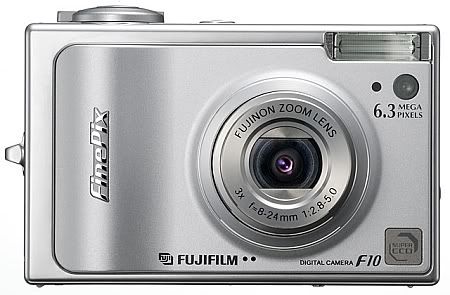 DigitalCameraInfo.com
have reviewed this digicam and have this to say about it-
"Digital camera manufacturers have tried for years to combine high-quality images and a compact camera body. The Fujifilm FinePix F10 is the most successful fusion of the two that we've come by. The F10 has good solid guts — a 1/1.7-inch Super CCD with 6.3 effective megapixels and a Real Photo imaging processor — in a fairly lightweight 3.6 x 2.3 x 1.1-inch camera body. The Fujifilm F10 produced the highest percentage of resolution from a compact camera we've tested to date, recording 5.47 of its advertised 6.3 megapixels (90%). It also produced an overall manual ISO noise score to rival that of high-end, thousand-dollar DSLRs (obviously, without the dynamic range). This compact camera has several SLR elements to it, including the high quality images and fast startup. However, there are drawbacks. If it seemed too good to be true, it may be. The catch is somewhat substandard construction that is materializes in wretched noises when focusing and using the shutter mechanism. The misspelled headings and settings is inexcusable. Fujifilm has expressed plans to limit the defective releases and ensure that further shipments do not include these oversights, as well as contemplating an update to correct the flaw. Additionally, the F10 does not exactly reflect its high-end guts in its exterior appearance. The body is compact, but not very sleek and not quite a pocket model. The F10 is definitely the brainy type that has a few quirks (strange shutter and focusing sounds, misspelled menus, etc.). At a retail price of $399, and available online for closer to $330, consumers should be more apt to overlook those quirks and invest in high-quality photographs."
head on over and read the rest of this review...
then decide!