A 5-megapixel CCD and 3X optical zoom lens graces this new model from Casio. The
Casio Exilim EX-Z57
delivers high resolution picture quality and sports a 2.7-inch liquid crystal display.
Steve's Digicams
have posted their review of the
Exilim EX-Z57
and have this to say about it-
"The EX-Z57 is another 5-megapixel, 3x optical zoom "Exilim" camera from Casio and is basically identical to the EX-Z50 and EX-Z55, but adds a larger 2.7-inch LCD that covers nearly the entire back of the camera; however the addition of this massive display costs you the useful optical viewfinder found on the other models. This credit card-size "pocket rocket" is loaded with features that are usually found only on larger and more expensive digicams. There are 23 pre-programmed "Best Shot" scenes modes that optimize the camera's settings for specific shooting conditions, which allows it to be used by any member of your household."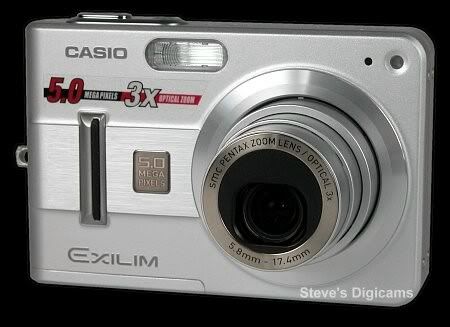 "Bottom line - Casio has done it again with the Exilim EX-Z57. We feel it will make an excellent choice for anyone in the market for a digicam with great image quality, speedy performance, and a durable metal body that can be slipped into almost any size pocket or purse. Its 5-megapixel Fine images have plenty of resolution to create photo-quality 13x19-inch prints. Not bad for just $399!"
Click to read the rest of this Casio Exilim EX-Z57 review...