Check out the features that are jammed into this beautiful 3.46-by-2.24-by-0.66-inch stainless-steel case. Casio managed to find room for a 2-inch LCD and a 2.8X optical zoom on the
Exilim EX-S100
, while retaining a sensible, easy-to-use control layout. It boasts excellent performance and is packed with fun features, including do-it-yourself user-definable scene modes and in-camera HTML album generation.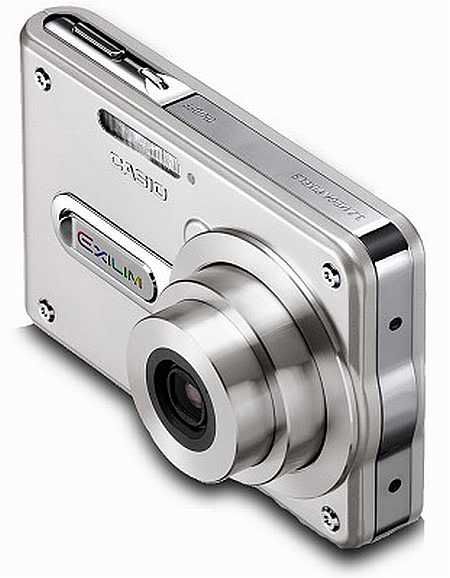 Megapixel.net have reviewed the
Casio Exilim EX-S100
and have this to report-
Sleek and diminutive, the Casio Exilim EX-S100 is one of a handful of ultra slim zoom cameras. Offering a 3.2 megapixel resolution and a 2.8X optical zoom that folds neatly into a space less than 1.42 cm (0.56 inch), the EX-S100 is a camera that can literally be carried anywhere.

The Casio EX-S100 is entirely metal-clad, and even its external controls have a metallic surface. On the front, the design provides for the flash, and a microphone which is behind a tiny hole near the lower left of the lens trim. And, when retracted, the lens is flush to the front surface and its front element is covered by a metal shutter.

Externally, the Exilim ES-S100 is very well finished, very compact, and relatively uncomplicated. With few external controls, most of the camera and photographic settings have to be made using the menu, a process that is generally simple as well.

In terms of ergonomics, the other drawback imposed by the camera's size is that there is not enough space for an optical viewfinder. Although the EX-S100 offers a 2-inch LCD monitor, the absence of an alternative is noticeable when the camera is used outdoors when even under an overcast sky, the monitor can be difficult to see.
Click to read the rest of this
review of the Casio Exilim EX-S100 Digital Camera
.