In many ways, the new Canon SD400 is the same as the SD300. That means there's an ultra-thin metal body, DIGIC II processor, 3X zoom lens, 2-inch LCD display, and a nice VGA movie mode.
But it also includes the features
New "Night Display" feature brightens the LCD in low light


My Colors feature lets you highlight and even swap colors right on the camera


USB 2.0 High Speed support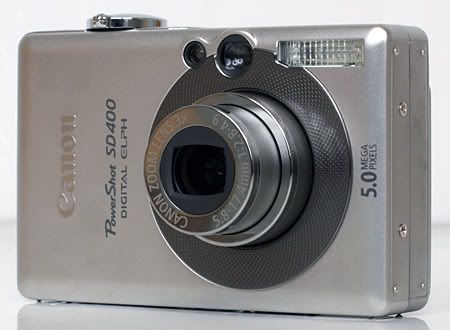 Canon Powershot SD400
Digital Camera Resource Page have done a full review of the SD400 and have this to say-
"Overall I liked the Canon PowerShot SD400, though I think the SD500 does a better job in terms of image quality. While most of my SD400 photos were nice, they were a little noisier and softer than I would've liked (they really reminded me of the Sony T-series photos for some reason). In addition I had two totally soft (read: awful) photos that needed to be reshot -- something I haven't had to do with any of the other SD series cameras before (maybe it's just my camera?). I do think, however, that the average point-and-shoot user will be happy with the image quality, as they will be mostly making prints 8 x 10 inches and smaller. Remember that I'm supposed to be picky.

The SD400 is an ultra-thin camera with an all-metal body. It's very well put together for the most part, save for that plastic door over the memory card and battery compartment. Camera performance is superb, and probably the best in its class (along with the other SD models). The camera starts up in a little over a second and it's fast at just about everything. The continuous shooting and movie modes are both first-rate. The SD400 has a 2-inch LCD display that automatically gains up in low light. Speaking of low light, the AF-assist lamp helped the camera focus well in darker rooms. The SD400's support for the USB 2.0 High Speed protocol means less time waiting for your photos to be transferred to your computer. Once there you'll find Canon's software to be better than average."
Click to read the
Canon Powershot SD400
review.