The
Canon PowerShot A510
is the latest in a long line of well-built digital cameras from Canon.
Canon U.S.A.
has long been a strong contender in the film and digital camera markets, well-known for its high-quality optics, technical innovations, and aggressive product development. The 3.2-megapixel
Canon A510
updates this extensive line with a longer-ratio zoom lens, more compact form factor, and a few other unique features, increasing the camera's already great flexibility.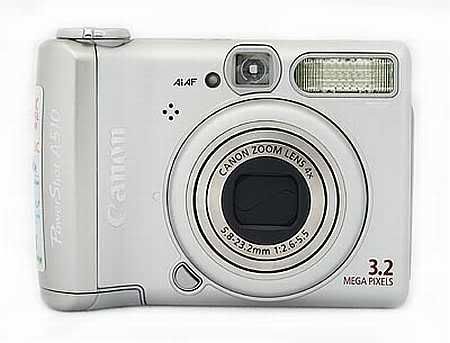 DigitalCameraInfo.com
have posted their review of this rectilinear-shaped camera and have this to say-
The Canon PowerShot A510's small compact frame will greatly please the point-and-shoot user looking for an introductory camera that performs. The simple physical design comes equipped with a wide variety of manual control options - a surprising trait for a point-and-shoot camera which is currently available online for $179.95. Equipped with a 1/2.5 inch 3.2 MP CCD, the camera performs in line with the conventional Canon reputation. Unlike many PowerShot models before it, the A510 effectively suppresses noise in higher ISO ratings and works well in auto mode. The A510 is also quite flexible for an introductory digital camera, allowing for the application of external "slave" flash and conversion lens units. Still capture capabilities on the A510 greatly exceeded expectations, but unfortunately the video recording mode did not. Interested consumers will have to make the sacrifice. The A510 records full resolution video at 10 fps, which is a third of the rate needed for full, fluid motion, so you can imagine how choppy the final clip appears. With a slow shooting rate, users will also have to pick between quality and speed. The dismal shot to shot lag time is significant enough to be problematic for many shooting situations. All around there are some major hindrances on the camera - it certainly will not compete with some of the $500 and up models that have been released this year, but for well under $200 and dropping, the A510 will provide reliable image quality, shooting flexibility, and an opportunity for beginners to expand their photographic knowledge and grow into the camera.
Click here to read the full review...