A replacement for the very popular A75, the
Canon PowerShot A510
offers several enhancements - most importantly a new 4x optical zoom - over its predecessor.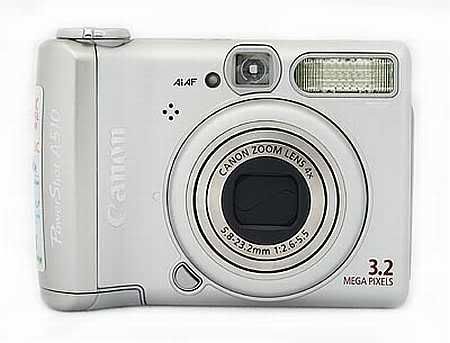 DPReview today has reviewed this digicam and writes-
"Everything we said about the PowerShot A520 applies equally to the A510; it would be hard to find a more suitable first digital camera for the novice digital photographer on a budget. No matter what the situation, the A510 turns out perfectly exposed and focused results shot after shot. And the fact that as well as idiot-proof 'point and shoot' modes and scene modes you get a full array of manual options means it's a camera that you can grow with as your skills develop.

The build quality is excellent, the results - though probably a little 'over-processed' for purists (and almost all are in need of a little sharpening in post processing) are perfect for the target market; bright, colorful and contrasty. Our only serious complaints are to do with some aspects of the speed of operation - focus can struggle in low light at the long end of the zoom (sometimes taking up to two seconds to find its mark), the shot-to-shot time (when not in burst mode) feels very slow if you're trying to grab shots quickly, and the flash recycle time is frankly unacceptable.

Compared to the A520, the PowerShot A510 has the advantage of price (it's around $100 cheaper), slightly faster playback and burst mode and lower noise (though you'll only really see the difference shooting at ISO 400). It manages to capture nearly - though not quite - as much detail (maybe 10 or 15% less), and has all the positive qualities of its big brother; superb metal-bodied build, sophisticated features and excellent battery life. If you are unlikely to print at sizes about about 5 x 7 inches (at which point the A520's extra resolution starts to show) and are looking for a well-specified first camera that won't break the bank, the PowerShot A510 is well worth a closer look. "
Click to read the Canon PowerShot A510 review from DPReview.