If you're a Canon SLR owner here is a nice carry around lens for you. The
Canon EF 28-200mm f/3.5-5.6 USM zoom lens
holds a wide focal length range in a compact and inexpensive package.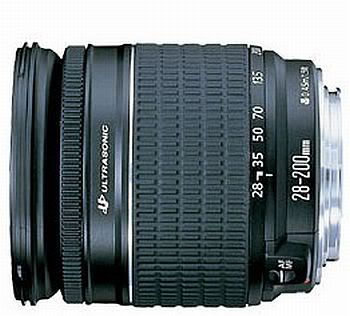 TheDigitalPicture.com
has a review of this lens up on their site and has this to say-
"AF (autofocus) is not silent, but is reasonably fast. That is except in some of the medium-low light situations I tried. I found a couple of situations that the Canon EF 28-200mm f/3.5-5.6 USM Lens would not lock focus. These were situations I felt should have been adequate for the 28-200 on a Canon 1-Series Digital SLR using the center focus point only. The Micro-USM (Ultrasonic Motor) on the 28-200 does not include FTM (Full Time Manual).

The Canon EF 28-200mm f/3.5-5.6 USM Lens is a slow lens with an aperture that starts at f/4, goes to f/4.5 around 45mm, to f/5 around 55mm and to f/5.6 somewhere in the 80mm neighborhood. The 28-200 aperture is a lower-end 6-blade design."
It's a decent and economical lens but they actually have several others they recommend more.
Have a read here...