This is a novel idea. Carry this small bottle adapter around and you'll never be without a tripod un-expectedly.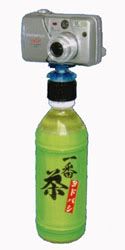 The world's first bottle cap tripod by Yodobashi. It magically turns a bottle into a tripod, ideal for night shot and self portraits. The bottle cap tripod fits bottles with 28.5 to 30.5mm diameter.
Click here to learn how to purchase...