DPreview
is reporting about a couple of new products from
Wacom
.
"Wacom Europe has today announced a new consumer new A6-sized pen tablet called the
Volito2
(pictured). The dark gray, metallic-colored tablet has improved ergonomics, an updated design and now comes with an interactive tutorial which fires up when the tablet is first used. It will be available at the end of March priced £35.99 (approx €51.84). Meanwhile
Wacom
Japan has announced the A5-sized FAVO, a Bluetooth pen tablet, which has a 10m range. It can be recharged and used for up to 25 hours. The Wacom FAVO will be available in Japan from March 25 priced ¥19,824 (approx $186). There are currently no plans to launch the product in Europe."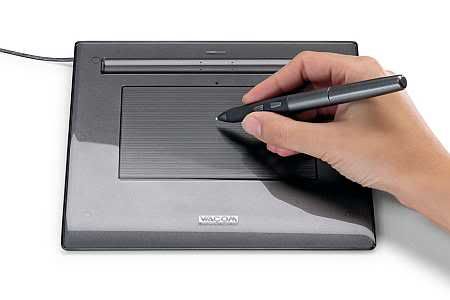 The
Volito2
now comes in a dark grey, metallic colour that will look stylish in any home. The surface of the active area on the tablet has been specially treated to enhance the feeling of pen on paper and it also indicates in which area the pen can be activated.
The pen takes advantage of Wacom's patented 'penabled' technology and as a result is both battery-free and cordless. Using a pen in such a natural way helps to provide a personal touch when creating digital communications such as greetings cards and invitations. For ease, there are two buttons on one side of the pen, which by default are configured as right click and double click. However, these can be freely customised to suit the user.
Volito2
will be available from the end of March 2005 from all PC stores such as PC World and will be priced at £35.99 including VAT. The product comes with a two-year guarantee.
Click to read the rest of this article...