Sony has today announced the Cyber-shot DSC-T7, the latest in the T line of ultra-compact digital cameras with unique feature of this amazing little digital camera is that it is only 14.8 mm / 0.6 in 'thin' (9.8 mm / 0.4 in at the thinnest part). It feels about half the thickness of the recently announced DSC-T33 and is approximately the same size from the front.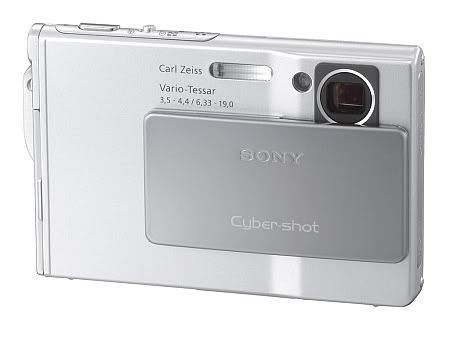 LAS VEGAS, March 8, 2005 – Sony's new, incredibly thin Cyber-shot® DSC-T7 digital camera makes you the center of attention wherever you go.
Thanks to a highly efficient design, the Cyber-shot T7 is just over a third-of-an inch, making it Sony's thinnest, fully-featured model yet. Though small in stature, the camera packs a powerful punch. It has a 2.5-inch 'hybrid' LCD screen, covering about two-thirds of the back of the camera, which is perfectly sized for framing, displaying and sharing pictures.
Through Sony's distinctive miniaturization and high-density packaging technology, the camera incorporates virtually all the benefits of other T series models despite its amazing thinness. It features 5.1 effective megapixel resolution and an enhanced power management system for extended shooting time. Folded within the sleek body also lies a Carl Zeiss® Vario-Tessar® lens with 3x Optical Zoom.
Unbelievable Imaging
One of the camera's most distinctive features is an anti-reflection Clear Photo LCD ™, which enhances viewing quality by preventing reflected light from interfering with the displayed image. The LCD offers a number of improvements, including higher contrast, brightness and resolution. Whether you're entertaining at home or out snowboarding, the LCD allows you to spot your subject easily, whatever the lighting conditions.
"This ultra-compact camera represents a milestone in ingenious design," said Hiro Takahashi, vice president for digital imaging products at Sony Electronics. "Thin is the theme, but this camera is absolutely bursting with great picture quality and style. The Cyber-shot T7 is a must-have camera for the fashion-forward crowd."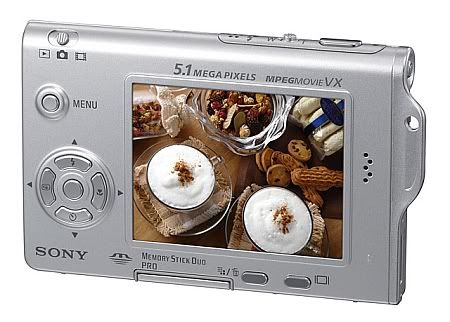 Simplicity Itself
Slide the front lens cover down and in just under one second, the camera is ready to capture images.
The ten Scene Selection modes mean you don't have to worry about capturing the perfect shot, because the camera will help you do it. Simply select a mode, such as twilight, fireworks, beach or snow, and the camera will make all the necessary adjustments. A magnifying glass mode allows macro shooting up to 1cm from the object. A high-speed burst mode with great response is also available for quick shooting.
Speed and Battery Life
Sony's Real Imaging Processor™ circuitry in the Cyber-shot T7 is lighting fast, so it can shoot full-resolution images at approximately one-second intervals. Even with its diminutive size and huge LCD on, the camera's InfoLithium™ battery gets about 180 shots per charge so you can snap away to your heart's content without fear of running down the power.
With optional Memory Stick PRO Duo™ media cards, the camera can also capture and play back high-resolution motion video on a removable, transferable card. The MPEG-VX fine mode helps to record MPEG video with 640x480 pixel resolution at 30 frames per second, up to the capacity of the memory card being used. And when connected to a PictBridge™-compatible printer, such as Sony's PictureStation® DPP-FP50 digital photo printer, printing a specific image is a breeze.
The Cyber-shot DSC-T7 camera is supplied with a 32 MB Memory Stick Duo™ media card, a NP-FE1 InfoLithium battery, connector block and external battery charger. It will be available in May for about $500.