The new Walkman has a 200x200 1.5" colour LCD and a 1.3MP effective resolution CMOS digital camera. In addition, while previous MD and Hi-MD Walkmans only supported the ATRAC3/ATRAC3plus audio codecs, the MZ-DH10P also supports MP3 playback.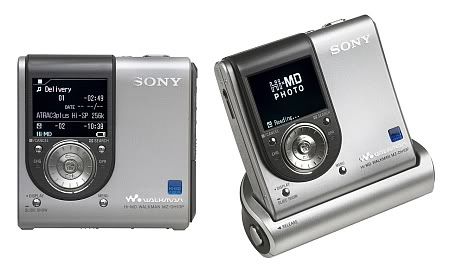 SAN DIEGO, March 1, 2005 - Providing options for all lifestyles, Sony has once again expanded its selection of portable music devices with the introduction of its 2005 line of MiniDisc™ Walkman® digital music players.
For music buffs unwilling to be constrained by capacity, MiniDisc media provides removable, recordable, scratch-resistant and affordable storage for an infinite library of songs. The discs are small, durable and re-recordable up to a million times without degradation in audio quality.
The new MiniDisc line of Walkman players includes a hip, Psyc® Net MD model and several high capacity Hi-MD™ players. All of the players offer the extended battery life, compact design and sturdiness for which MD players are recognized.
With Hi-MD technology, users can record up to 45 hours of music on one disc utilizing USB high speed transfer. Removable, re-recordable Hi-MD media offers 1GB of storage on each disc for expandable music collections and virtually all PC data files. The 2005 Hi-MD players play back both MP3 and ATRAC3® audio files, in addition to supporting WMA and WAV formats. And with the top-of-the-line MZ-DH10P model, you can even take digital images right on the device.
"Many musicians, journalists and digital music fans rely on the flexibility and durability of the MiniDisc format," said Allan Jason, vice president for portable audio products at Sony Electronics. "Our latest models increase the utility of the players and bring more advantages to our MD customers."
All of the models are compatible with Sony's Connect™ online music store and include both SonicStage® software and the MD Simple Burner application, which make it easy to import, manage and transfer music collections.
Click to read the rest of this article...