Found via DCVIEWS
I'm having a hard time thinking of who would have a legitimate use for this thing. To me, it looks like something a real creep would use to get photos of unsuspecting women. Do any of you see a reason for this thing?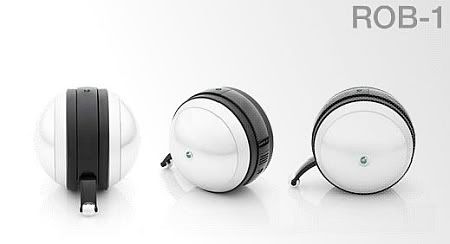 Sony Ericsson unveils the Bluetooth controlled Motion Cam ROB-1 digital camera at CeBIT. The mobile ROB-1 can move around freely, steered wirelessly by the joy-stick or keypad on your mobile phone, enabling you to see on the phone screen exactly what ROB-1 is looking at. You can then capture these images using your phone just as you would a normal photo.
With
ROB-1
Sony Ericsson has produced another fun and innovative 'first' for Bluetooth™ technology pushing the boundaries and firing consumer's imagination. The company's Bluetooth™ Car CAR-100, first seen in the Sony Ericsson stand at CeBIT 2003, pioneered the concept of using mobile phone Bluetooth capability for entertainment purposes rather than practical applications. Now ROB-1, the first device to combines the CAR-100's steering capabilities with video streaming, continues this tradition.
Ulf Persson, Corporate Vice President and Head of Accessories for Sony Ericsson is enthusiastic about the fun you can have with the ROB-1: "This is a great gadget for people who really like testing the latest technology first hand and having fun with new applications. Just like the Sony Ericsson Bluetooth Car which appealed to a wide range of gadget fans, we believe that ROB-1 will become the 'must have' Bluetooth gadget to show off to friends and family.
The Bluetooth™ Motion Cam ROB-1 will be available during Q3 2005.
Click to read the rest of this article...