Emily Raymond at DigitalCameraInfo
has just posted her first impressions of the Sony Cyber-shot DSC-H1 which is being marketed to the "Photography Enthusiast", much like their F series cameras. She writes: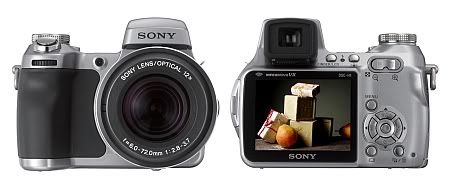 "Sony decided to up the ante this year and transform their line, entering the "ultra zoom" race with the release of a long-lens Cyber-shot digital camera. The resulting 5.1-megapixel Sony Cyber-shot DSC-H1 has a 12x optical zoom lens, equating to a 36-420mm variable focal range (35mm format), with image stabilization and conversion lens compatibility. Mark Weir, product manager for digital cameras and digital photo printers at Sony explained the ideology behind the H1, saying, "we think that by combining long zoom, high performance optical image stabilization and a 2.5 inch LCD, we'll have a very attractive combination of features set to what we see is a rapidly expanding part of the market." The SLR-shaped H1 does pack an attractive set of features: a full range of manual and automatic shooting modes, a large LCD screen with live histograms, 32 MB of internal memory, a movie mode which records video at 430 frames per second, as well as a 5.1-megapixel 1/2.4-inch CCD that works with the Sony Real Imaging Processor. The Sony H1 is designed for photography enthusiasts who want increased performance, flashier features, and longer lasting battery power in a compact camera body. The Cyber-shot H1 will be available for retail purchase in June 2005 for $499.95 (USD).

This Cyber-shot model is definitely reminiscent of a digital SLR. With a strong resemblance to the widely popular "ultra zoom" styling currently employed by Kodak for their DX and now Z lines as well as Panasonic's DMC-FZ models, the H1 does not offer any strong stylistic diversions in form. The camera has a long lens and bulky right-hand grip, characteristic of a digital SLR or compact, high zoom model. The H1 is built for serious enthusiasts, so the look has to appeal to the crowd. It does just that, not only with its shape, but with its light brushed silver body, rubber grips and darkened silver lens. The frame is a bit sleeker then Kodak's DX and Z lines and applies a stylistic edge that would be expected of Sony. As far as appearance goes, Sony played it safe, crafting the H1 body to fit in with the rest of the competition, although the 2.5" LCD dominating the back of the camera will certainly speak to style seekers."
Click to read the rest of this article...