DPreview
has reviewed the
Pentax *ist DS
DSLR. Weighing less than 18 ounces, this super-light, ultra-compact marvel boasts one of the world's smallest camera bodies yet houses an impressive array of features for astonishing image clarity and performance.
A 6.1 megapixel CCD with advanced processing technology for high-definition images rich in gradation and saturation. Interchangeability with a wide selection of existing PENTAX lenses for convenience and versatility.
An 11-point autofocus with SAFOX VIII for quick and accurate focus. And a host of user-friendly features including a high-magnification viewfinder, a large two-inch LCD monitor and data panel, and an innovative Auto Picture mode for fast and effortless operation. All packed into an attractive, sturdy casing.
The perfect blend of portability and performance, the *ist DS is the ideal traveling companion for beginners and advanced photographers of every level.
The DS is quite similar to its big brother the
Pentax *ist D
, both in size and design, however the DS does give up a few features and a little performance. This SLR is still a great camera for first time buyers.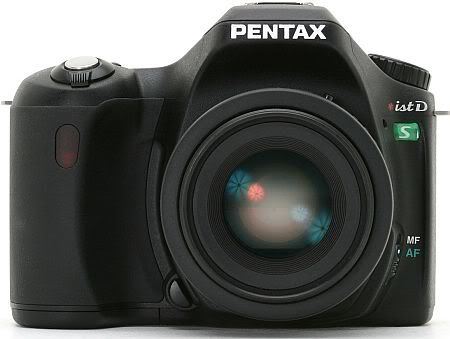 They write-
"The *ist DS is one of those cameras which grows on you, it's certainly compact and well put together but when you first pick it up you'd be forgiven for thinking it's a bit basic. In actual fact it packs more features and controls than most other budget SLR's and has some impressive performance to back that up. In use we found the *ist DS a very nice 'photographic tool', it always does the job, auto focus is reliable, that big viewfinder is a welcome change from some of the 'tunnel like' viewfinders found on other digital SLR's. Put it this way you're never left thinking you bought the second-best Pentax digital SLR.

With the *ist DS Pentax is clearly targeting the first time SLR user, this becomes clear when you see the 'AUTO PICT' exposure mode, the way the camera describes each exposure mode and the fact that the 'normal' image tone is fairly contrasty and highly saturated. In my opinion they could have done better by making the 'Natural' setting (with a little bit of sharpening) the default and provided 'Bright' as an option, either that or tone down the color saturation of that mode. Users upgrading from a consumer digital camera however will find the *ist DS less of a leap in what they expect an 'out of the camera JPEG' to look like."
Click here to read the full
Pentax *ist DS review
.