if you're considering buying the
Olympus Stylus 410 digital camera,
the
Imaging Resource
have reviewed it and seem to like it but suggest shelling out a bit more money for the
Olympus Stylus Verve
. They write:
The
Olympus Stylus 410
is the latest in the compact Stylus line of digital cameras from that company. Featuring a 4.0-megapixel CCD, 3x lens, "all-weather" body design, and compact size, the Olympus Stylus 410 Digital really isn't that much different from its predecessor, last year's Stylus 400 model. The fully automatic system requires very little user intervention with only a handful of creative options, but has the benefits of five preset Scene modes and a QuickTime Movie mode (without sound). The all-weather body can withstand water spray from any direction, but isn't meant to be fully submerged in water. Still, rubber seals and a separate plastic chassis inside the metal body provide excellent protection against water splashes and rain. As long as you keep it from getting completely submerged, you needn't worry about taking this camera to the beach, on ski trips, sailing trips, etc. (A characteristic it shares with the
Olympus Stylus Verve
, a model we actually liked quite a bit better.)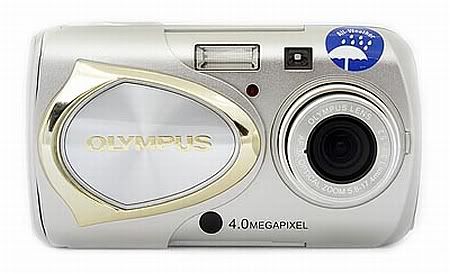 The Olympus Stylus film cameras are currently among the best selling point-and-shoot models available, widely popular across a range of consumer experience levels. Besides its user-friendly interface, compact design and good picture quality, its excellent (and unusual) water sealing makes the
Stylus 410
an appealing choice for a "take anywhere" camera. Battery life is excellent as well, and its color is very appealing. We'd be very enthusiastic about the camera were it not for what appears to be very aggressive anti-noise processing that drastically cuts image detail in areas of low subject contrast. Even in 4x6 prints, the effect is quite noticeable, and really makes it hard for us to recommend this model To our minds, a much better choice for the money is the excellent little
Olympus Stylus Verve
. The Verve shares the Stylus 410's water-resistance, to our eye has better build quality (and a very stylish case), and snaps very sharp, colorful pictures, all for only a few dollars more than the
Stylus 410
model at retail.
Click to read the rest of this article...