DCRP
has today presented their review of the
Olympus C-7070 Wide Zoom
, a nice little 7.1 MP camera with wide-angle and 4X zoom. A few other features of note are- two memory card slots, dual focusing system, full manual controls, and a unique LCD display. Oh, and it's black! (my personal preference)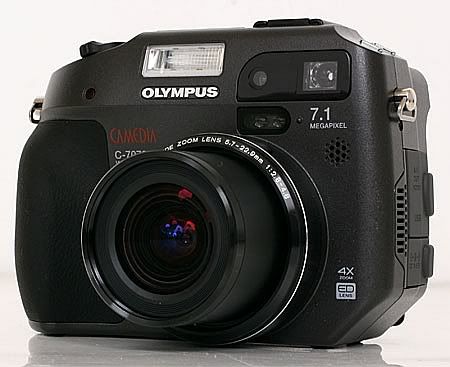 Some excerpts from their full review-
"The C-7070 is a good-sized camera that probably won't be finding its way into most of your pockets. Like its predecessor, it's built like a tank, with a sturdy metal frame and a minimum of plastic. The only part that doesn't breed a lot of confidence is the plastic door over the memory card slots. The camera is easy to hold, though a larger right hand grip wouldn't hurt. The most important controls are within easy reach of your fingers, though I'm not thrilled with the number of tiny buttons scattered around the camera body. Shutter lag was not an issue, even at slower shutter speeds where it sometimes occurs.

Included with the camera is Olympus Master, a pretty impressive software package that debuted last year. The first thing you'll probably do with the software is transfer photos from your camera. Once you've done that, you've got a nice thumbnail view that you can organize by date or keywords. A calendar view is also available.

One very nice feature in movie mode is camera movement compensation, a fancy word for digital image stabilization. This will help counter the effects of "camera shake" that can make your videos blurry.

There's a whole lot to like about the Olympus C-7070 Wide Zoom, and only a few things that you won't care for. The C-7070WZ isn't just another 7 Megapixel camera; this one features an ultra wide-angle lens starting at 27 mm. Unlike the Nikon Coolpix 8400 (which starts a little wider, at 24 mm), the C-7070 has some decent telephoto power, with a top end of 110 mm. If that's not enough for you, Olympus offers your choice of conversion lenses, which can reduce the focal length to 18.9, or increase it to a whopping 330 mm. The expandability doesn't stop there, though. The camera also supports 40.5 mm filters (without the need for a conversion lens adapter), an external flash, a power battery grip, and an underwater case.

In terms of features, the C-7070WZ is fully loaded. The camera offers full manual controls, white balance fine tuning, subject tracking autofocus, two types of histograms, and an electronic image stabilizer for movie mode. The movie mode has a lot of potential, but you can only record 20 seconds worth of video at the highest quality setting. The macro mode isn't terribly impressive unless you're using the super macro mode, then you can get very close to your subject."
It sounds to me like DCRP really like this camera.
Click to read the rest of this article...