Feast your eyes on this beauty, the
Nikon D2x
.
The Imaging Resource
got their hands on one of these and in their words, "just couldn't resist taking this new wondercam out on the town for a few pictures. It's very responsive, and its images appear to be of very high quality, with accurate color, low image noise, and excellent dynamic range. (The images are particularly interesting, as this is the first Nikon camera with a CMOS sensor.) Read on below for our initial impressions and links to the sample images we've shot thus far."
First new "X" series Nikon d-SLR in over 3 years


Dual-mode CMOS imager, 12.8 megapixels for images to 4288 x 2848 pixels.


Five frames/second at 12.2 megapixels, 8 frames/second at 6.9 megapixels


ISO from 100 to 800 ("ISO Boost" to 3200)


Full support for the Nikon wireless lighting system for full TTL flash metering with remote flash units.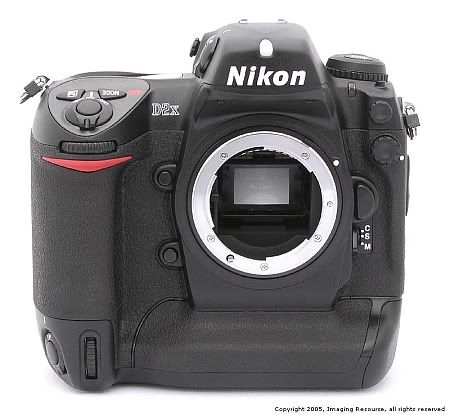 They go on to say-
"Frankly, before shooting with the D2x, I was concerned about Nikon's position in the high-end camera market. The D70 was a great camera for consumers, and a fine answer to competitors' offerings, but in the pro arena they've clearly lagged somewhat in the last year or two. I think the D2x brings them right back into contention with a pro camera that's not only rugged, good looking, and high quality, but that excels where it counts: image quality.

Stay tuned, we'll have a full "First Look" review in a week or two, with preliminary test data, and a full in-depth review as soon as we get a production sample to work with."
Read the full article here...
Nikon D2x photo gallery is here