DCRP
have published a joint review of the Nikon Coolpix 4600/5600 entry level point-and-shoot cameras for 2005.
The Nikon Coolpix 4600 and 5600 are both decent entry-level cameras that are best suited for outdoor photos. In those situations they take good quality photos with accurate colors and not much noise or purple fringing. Indoor photos are still okay, but taking them can be frustrating due to poor low light focusing and an LCD which doesn't gain up much. Both cameras are totally point-and-shoot, with white balance being the only manual control. They have a ton of scene modes, including unique "Scene Assist" modes which help you frame your photos. Two other cool features are Nikon's D-Lighting digital flash (which works if you don't mind more noise in your photos) and in-camera redeye reduction. The two Coolpixes also offer a help system in their menus, though the help screens could be more helpful.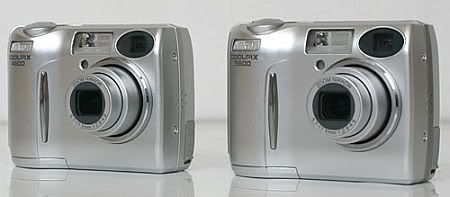 While both cameras are decent and earn my recommendation, here's what I'd do: skip both the 4600 and 5600 and get the Coolpix 5900 instead. While I haven't completed my review of that camera yet, I found it to be much better in many areas, most notably in terms of low light shooting. The 5900 has a larger LCD, better build quality, and a superior movie mode, too. Sure it'll set you back some more dollars, but you'll be glad that you upgraded.
Click here to read the full review(s).