A whopping 12x zoom on the
Konica Minolta DiMAGE Z5
is just one of the features of this love-it-or-hate-it designed digtal camera. It is the latest in the range to feature Konica Minolta's unique CCD-shifting Anti-Shake system seen in the A2/A200 and
Maxxum 7D digital SLR
.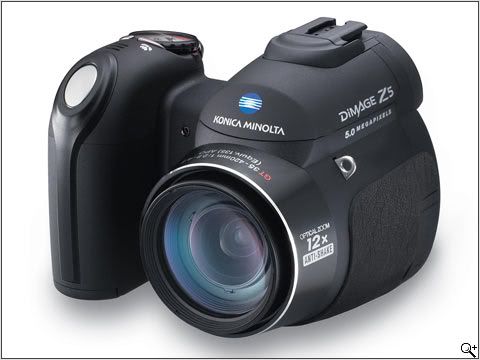 DPreview's
review concludes-
"In an increasingly crowded 'super zoom' market the DiMAGE Z5 offers a combination of features only matched by Panasonic's FZ5 and FZ20 models. It's fast and easy to use, offers reliable exposure and focus (save for some hunting at the long end of the zoom) and is excellent value for money. The image quality is by no means class-leading, but the saturated colors and generally good detail make for lovely prints at up to around 8x10 inches, though virtually all shots benefit from a little post-processing (gentle unsharp masking and a slight brightness boost). Noise is a serious issue at any ISO setting over 100 (and the top setting of ISO 320 is very poor in today's market), but with the effective Anti-Shake system you can get away with using the lower settings most of the time. However, if you shoot in low light a lot you need to be aware of this, the only serious limitation of an otherwise highly refined camera.

Like the other DiMAGE Z series cameras before it, the Z5 is a rewarding and responsive camera with well-designed and implemented feature set. There are other 5MP cameras offering a similar zoom range (and image stabililzation) at a similar price point, but none that also sport a flash shoe, 30 fps VGA movies and lightning fast focus. It's not perfect (and if it weren't for the Panasonic Lumix range it would be a real contender), but the DiMAGE Z5 certainly has plenty to recommend it."
Click to read the rest of this article...