Today I came across a new photo browser/editor from the folks at
Fast Stone Soft
.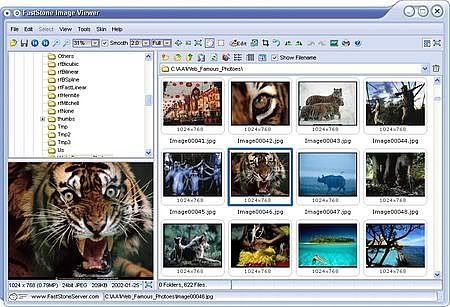 FastStone Image Viewer is an image browser, viewer, converter and editor with an easy to use interface and a nice array of features that include resizing, renaming, cropping, color adjustments, watermarks and more. It also includes an intuitive full-screen mode that provides quick access to EXIF information and thumbnail browser via hidden toolbars that emerge when you touch the edge of your screen with the mouse. Other features include a high quality magnifier and built-in slideshow with 60+ transitional effects, as well as lossless JPEG transitions, drop shadow effects, image frames, scanner support, histogram and much more. It supports all major graphic formats including BMP, JPEG, JPEG 2000, GIF, PNG, PCX, TIFF, WMF, ICO and TGA.
Free for Home Users
No Adware, No Spyware
Features
* Image browser with a Window-Resource-Explorer user interface
* Common image formats support, including loading of JPEG, JPEG2000, GIF, BMP, PNG, PCX, TIFF, WMF, ICO, TAG, EMF, PXM, WBMP and saving to TIFF, GIF, PCX, BMP, ICO, PNG, TGA, PXM, WBMP, JPEG, JPEG2000, PDF.
* Full screen viewer with Select - Zoom support
* Crystal clear and customizable magnifier
* Resizing, flipping, rotating, cropping, color adjusting tools
* Image EXIF metadata support
* Batch image converter/resizer
* Slideshow with dozens of transitional effects
* Undo, Redo and Mouse Wheel support
I have no idea how they fit so much functionality in a 2.39 MB download!
This browser has a very slick interface and is fast as lightning. I recommend you take a look at this one.
They have some other tools too you may be interested in as well.