DCViews today takes a closer look at the Casio Exilim Pro EX-P505 digital camera, a camera that appears much larger in photos than it really is. In their words it is "is only the size of a small mobile phone."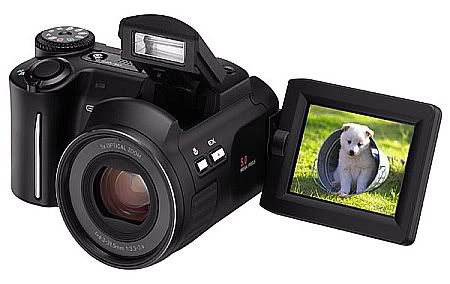 They go on to say-
"Casio have succeeded in producing a truly hybrid camera that is capable of taking high quality still images as well as excellent video clips with zoom function during filming. Its compact size coupled to a 5-megapixel CCD and a 5x optical zoom lens makes it ideal for holidays or family snaps. Some might argue that there is no RAW or TIFF option, but the quality of JPG images at ISO 50 is easily good enough for the kind of photography most users will need the camera for.

Although we would have preferred a metal outer casing instead of plastic, the Casio EX-P505 is an excellent digital camera with so many versatile functions that even enthusiastic photographers will find ample options to be creative. With its built in neutral density filter, the option to use screw-in filters and several internal filters, many creative solutions can be applied to your images. The swivelling LCD screen with optional grid makes for easy framing, while shortcuts to frequently used functions make this camera a pleasure to work with. Its light weight and compact size means there is now no more excuse for leaving your camera at home."

Be sure to visit the
full review from DCViews of the Casio Exilim Pro EX-P505 here
. They have lots of sample photos and insight into this 5-megapixel digital still camera.