The
Casio EXILIM PRO EX-P505
is a stylish prosumer digital camera equipped with a 5.0 megapixel imaging element and a 5X optical zoom. It not only takes superbly detailed digital photos, it is also capable of shooting extended video scenes with high-image quality. The
EXILIM PRO EX-P505
is a high-performance digital camera with an amazing high-quality video capability. It offers the same manual operation made famous by the EX-P600, as well as high-quality video shooting capability of 30 frames per second, in VGA size, thanks to the incorporation of MPEG-4 technology.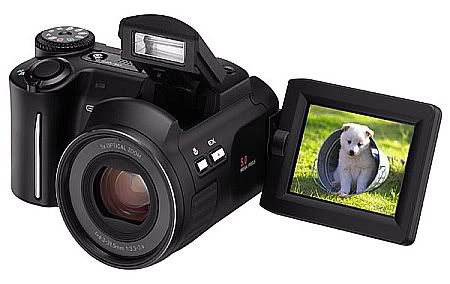 Steve's Digicams
highly regarded reviews have just reported on this camera and write-
"The EX-P505's high-speed startup enables shooting only 0.8 seconds after the power is turned on. Shutter release time lag of only 0.01 sec. means fewer "missed" shots when things are happening fast. Casio's Super Life Battery supplies enough power for approx. 220 pictures per charge. To help conserve the battery the camera power is automatically switched ON/OFF when the LCD panel is opened and closed. Pictures and movies can be quickly transferred to the host PC thanks to a high-speed USB 2.0 interface. That same USB interface can be used to print directly to any Pictbridge compatible printer without need of a computer.

Like its big brothers the EX-P600 and the EX-P700, it incorporates a shooting mode for every experience level photographer. Its Program AE mode is perfect for the beginner who wants to simply point and snap, or the intermediate user who likes to change setting like ISO, White Balance, etc. For those who like a bit more control, it offers Aperture and Shutter Speed priority modes so you can explore your more creative side as well as a full Manual mode that allows you to select every aspect of the exposure process."
Read the full article here...