Emily over at DigitalCamerInfo has posted her review of the trendy and ultra slim Casio Exilim EX-Z57 with its massive 2.7-inch LCD screen, and 5.25-megapixel 1/2.5-inch CCD. She writes-
"The Exilim EX-Z57 is yet another Casio addition to the increasingly skinny point-and-shoot market, aimed at consumers searching for both style and convenience. This 5-megapixel digital camera definitely tops the charts for portability and style. Its thin, flat profile makes it easy to pitch in a shirt or pants pocket. The camera is incredibly light, but the aluminum frame gives the body some substance and credibility. This Exilim is comfortable to handle and easier to use than many previous Casio models, although some of that can be attributed to the automatic nature of the camera. The Z57 stocks a 3x optical zoom lens with a 5.25-megapixel 1/2.5-inch CCD behind it. The Exilim EX-Z57 has the same interior configuration as last year's Casio Z55, except the newer model has an enormous 2.7-inch LCD screen and no optical viewfinder. The Casio EX-Z57 will be available worldwide for $399.99"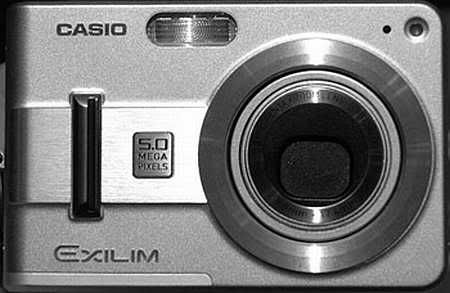 For the $399.99 price, the
Casio Exilim EX-Z57
packs competitive features found on more expensive models. The huge 2.7-inch LCD screen coupled with 5 megapixels and a wide variety of scene modes is a difficult package to find at this price. If users are looking for pure function, the newly released
Nikon 5900
has very similar functions - mostly automatic modes, 5 megapixels, 3x optical zoom, 2 inch LCD - and sells for $349.95. However, the 5900 does not have the sleek body that the Z57 boasts. If users are looking for that sort of style, this may be the cheapest it comes. The
Sony T33
has 5 megapixels, 3x optical zoom, similar functions, and a 2.5-inch LCD screen, however, it retails for $499.99.
The
Casio Exilim EX-Z57
has attracted significant interest with its flashy features and relatively affordable retail price of $399.99. This camera appeals to automatic-oriented consumers, as it doesn't offer manual adjustments for aperture or shutter speeds. Users can change a few settings such as white balance and ISO within the intuitive menus. The Best Shot mode contains a lengthy list of scene modes, with some basics such as Portrait and some other exotic modes like Coupling Shot. There are plenty of image size options in both 4:3 and 3:2 formats, enabling users to optimize the frame for specific prints sizes. The 5-megapixel digital camera has a quiet
Pentax
3x optical zoom lens with a built-in cover that snaps open and closed. And on the other side, the Z57's true gem, a 2.7-inch LCD screen, which is substantially larger than any in this price range. Although it seems the most emphasized marketing point for the camera is the 400-shot battery life. This is the same as the earlier Z55, but surpasses it on the grounds that it is using a larger LCD screen (and thus, consumes more battery power). When the lithium-ion battery does run low, users can put the camera in the included camera dock, which has all the connections for easy printing and transferring of images.
Read the full Casio Exilim EX-Z57 review.