The
Canon PowerShot A510
is the latest in a long line of well-built digital cameras from Canon. Canon U.S.A. has long been a strong contender in the film and digital camera markets, well-known for its high-quality optics, technical innovations, and aggressive product development. The 3.2-megapixel
Canon A510
updates this extensive line with a longer-ratio zoom lens, more compact form factor, and a few other unique features, increasing the camera's already great flexibility. The
Imaging Resource
has posted their extensive review of this nice little camera
here
.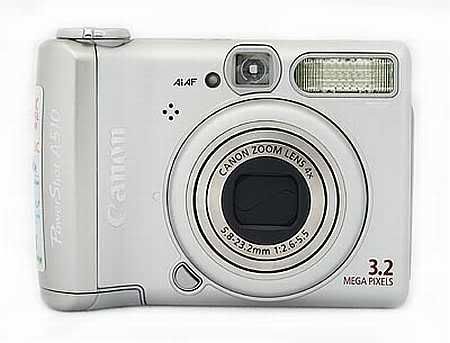 Last year,
Canon's PowerShot A75
found itself in the Dave's Pick category, offering excellent usability and great picture quality at a low price. This year, the
Canon PowerShot A510
continues the series, adding a 4x zoom lens (vs the A75's 3x design), but in most other respects simply carrying forward the features of the previous A75 model. The camera accommodates a wide range of users with its variable level of exposure control. Experienced shooters will appreciate the Manual, Aperture Priority, and Shutter Priority modes, while novices will find the Auto, Program AE, and Scene modes useful. Keep reading to find out more!
The
Canon PowerShot A510
provides a full range of exposure control, from Manual to Auto exposure modes, and a handful of preset scene modes as well. All exposure modes are accessed by turning the Mode dial on top of the camera. Canon divided the dial into three exposure types: Auto, Creative Zone, and Image Zone. Shooting in Auto mode puts the camera in charge of everything except the Flash and Macro modes. Exposure modes in the Creative Zone include Program AE (P), Shutter Speed-Priority AE (Tv), Aperture-Priority AE (Av), and Manual Exposure (M). Program AE lets the camera choose the aperture and shutter speed settings, but gives you control over all other exposure options. Aperture and Shutter Speed Priority modes allow you to set one exposure variable (aperture or shutter speed) while the camera chooses the best corresponding variable. Manual mode gives you full control over all exposure options.
Offering a complete range of auto and manual exposure controls, the
Canon PowerShot A510
makes a good choice for novice users and experienced amateurs alike. Its fully automatic mode keeps things simple for novices, while the camera's more manual modes offer the opportunity to gradually step up to more control. Plus, the range of preset exposure modes ensures that less-experienced photographers will get good pictures in difficult shooting situations. The 3.2-megapixel CCD captures high quality images, able to make sharp prints as large as 8x10 inches, while maintaining very good detail. The compact design should fit well into a larger coat pocket or purse, and the lens design protects it when closed, while keeping the camera body smooth and low-profile. In addition to the range of exposure controls, a menu of creative effects makes the
Canon A510
fun too. Like the A75 before it, the A510 is marketed and priced as an "entry level" camera, but its features and capabilities extend far beyond that category. If you're looking for an inexpensive camera that you can grow with (and that shoots excellent photos as well), the Canon A510 deserves serious consideration. (The significant price differential when compared to the 4-megapixel A520 model makes the A510 a particularly good bargain.)
Featuring a 3.2-megapixel CCD, automatic, partial, or fully manual exposure control, and a wide range of preset shooting modes, the
PowerShot A510
is another great member of Canon's A-series line of digital cameras. Built on the same long-tested design as many A-series predecessors, the
Canon A510
offers a lot in its compact package. Its combination of automatic and manual features make it very approachable for novices, but interesting for experienced users, the net result being a camera that will satisfy a broad range of interests and provide a good path for novice users to expand their photographic horizons as their experience grows. I'd like to see it equipped with a more accurate optical viewfinder, but other than that, this is a camera that will meet the needs of the average consumer very well. With an initial suggested retail price fully $100 less than that of the 4-megapixel A520, the A510 is a particularly good bargain for an all-around consumer model. Overall, a solid replacement for last year's A75 model, claiming its own place as a Dave's Pick.
Read the full review of the Canon PowerShot A510 here...