Continuing on my comparison articles, here is one for those of you looking at both the
Canon Digital Rebel XT
and the
Canon EOS 20D
. The burning question for you folks is, should you buy the EOS 20D or save $500 and buy the new Digital Rebel XT - or maybe even save another $200 and buy the original
Digital Rebel
? All of these models are really sweet cameras, so...
Very good question indeed.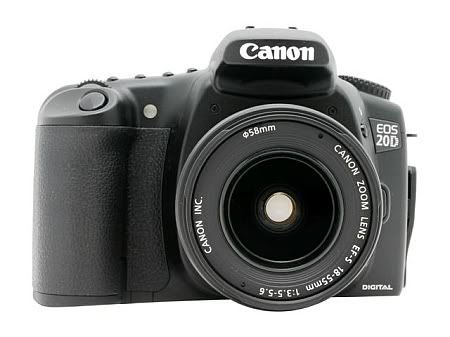 Bob Atkins, who runs another popular photography website has done all the comparisons for us and delivered his verdict in his "
Canon EOS Digital Rebel XT (350D) vs. EOS 20D - A Comparison
" article.
His verdict?
The Digital Rebel XT is designed more for the newcomer to digital SLRs and for users who don't need the added features and durability of the EOS 20D. The EOS 20D is designed more for the serious amateur and professional who work their cameras harder and expect them to do more. The difference is around $500 new and $500 is different for everyone. I'm sure it's pocket change for Bill Gates, but it may be a month's rent and food for a anyone with a limited budget. Only you can decide if you need any or all of the extra features that the EOS 20D offers, and if you can afford them. It's likely that the difference in image quality will be small, but that also applies to film cameras, where the image captured by a $200 film Rebel T2 is the same as the image captured by a $400 Elan 7N, an $800 EOS-3 or a $1600 EOS-1v, so clearly people don't buy cameras based only on image quality.

For myself, I'd choose the EOS 20D, but I'd have no hesitation in recommending the Digital Rebel XT to anyone who wanted to save $500. It looks like an excellent camera and probably provides the vast majority of users all the features that they will ever need. It is clearly a significant step up from the original Digital Rebel - which was itself a pretty good camera.