ACDSee with WS_FTP PhotoMover
Complete Photo Transfer Management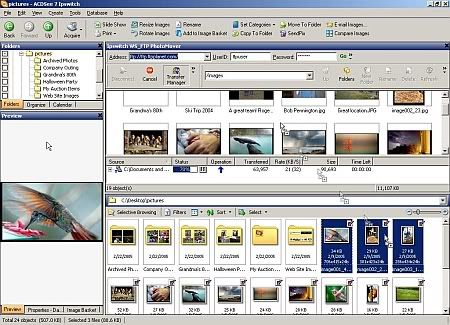 Transferring photos and images over the Internet can often be difficult, unpredictable and slow. E-mails with large attachments are commonly blocked, Web-based upload forums are unreliable and finding which photos to transfer takes more time than necessary.
ACDSee with Ipswitch WS_FTP PhotoMover
is the photo and image management solution that makes it easy, reliable and fast to:
* Share photos of family and friends
* Enhance your eBay® and other auction listings with images
* Upload large image files for others to download
* Archive and back up your photos online
* Transfer Web site content
ACDSee also lets you find, organize, edit and print your photos.
Try WS_FTP PhotoMover free for 30 days