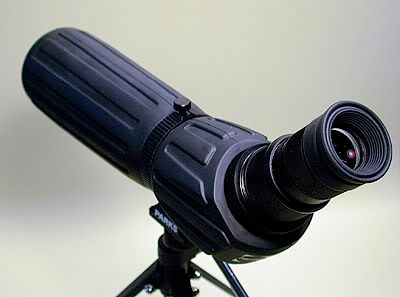 Not quite a telecope, not quite a zoom lens. The spotting scope form Malibu looks like a really nice toy to add to the collection. Found this at the Imaging Resource.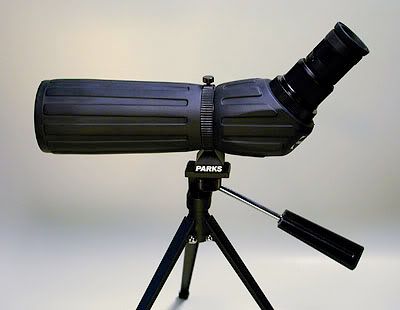 The $250 Malibu scope includes a carrying case (because it's small enough to go with you, like a large zucchini), tabletop tripod and a camera adapter. The weatherized scope with multi-coated elements to reduce glare has two controls: a zoom ring that travels from 12-36x 50mm magnification and a focus ring.

You don't need a digicam to appreciate the Malibu. Mount it on a tripod and scan the horizon and you'll see things that would otherwise cost bus fare. But you won't do that longer than it takes four NiMH AAs to recharge before you wonder just how much trouble it would be to affix your digicam instead of your eyeball to the Malibu.

The Lumicon Universal Digi-Cam Adapater made by Parks is a tortured piece of engineering that makes it possible to mount and align many digicams to some foreign optical assembly like a telescope. Parks claims the aluminum alloy adapter fits eyepieces 28-45mm in diameter. It mounts (and can be mounted) via a standard 1/4x20 tripod mount thread.

The scope (telescope or spotting) has to have a cylindrical eyepiece on which to clamp the adapter. The adapter itself provides two threaded slots on its camera platform, one aligned with the lens and the other offset. It takes just a slight turn of one or another worm-drive screw to align the mounted camera to the foreign optics.

If you want to mount a dSLR, though, you can dispense with the Lumicon. The Malibu scope includes a camera adapter ingeniously designed with cutouts to allow zooming and focusing the scope with the adapter attached. An inexpensive mounting ring for your camera is all that's needed to attach your dSLR to the Malibu.

In short, you have no excuse not to mount your digicam to the Malibu. And it's half the fun, anyway.
OK, I'm starting to save up for one of these right now! I love telephoto lenses!
Head on over to the Imaging Resource for the full story.