Sony has announced the Cyber-shot S80, which will be sold in Europe along with the S40 and S90. It has the same 4.1 megapixel resolution, 3x optical zoom lens and 2.0-inch LCD as the Cyber-shot S60, which isn't available in Europe. Sony is also marketing these new models as 'stamina' cameras as the user can take around 440 shots from one charge of the supplied rechargable batteries. The S80 will be available in April.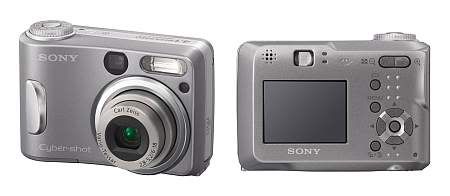 Sony Cyber-shot S-Series gives you worry-free photos and even more shooting power
Looking for your first digital still camera that is compact and easy to use? Look no further than the new 4.1 effective Megapixel Cyber-shot S40, S80 and S90. All featuring Carl Zeiss 3x Optical Zoom lenses, ideal for high-resolution digital images and prints, and superb STAMINA power efficiency.
There's a model to suit everyone in Sony's newest line-up - the Cyber-shot S40, S80 and S90 digital still cameras. Attractive features like 4.1 effective Megapixel resolution, with a high level of STAMINA and easy to use functions adding to the value of the new models. Ideal for beginners to digital photography, these compact Cyber-shot cameras each feature a high quality Carl Zeiss Vario-Tessar lens with 3x Optical Zoom. In addition the new cameras offer bright and clear LCD screens - with the huge 2.5-inch LCD screen on the Cyber-shot S90 being especially useful for framing shots, viewing the user-friendly menu screens, playing back and sharing your pictures with ease. The Cyber-shot S80 offers a large 2-inch LCD screen, and the Cyber-shot S40 a convenient 1.5-inch LCD screen.
Learn more here...