Digital Camera Resource Page
has posted their review of the Sony Cyber-shot DSC-T33 digital camera. This minimalist design sports a Carl Zeiss "folding" lens, and ultra-thin, stylish metal body. An excerpt: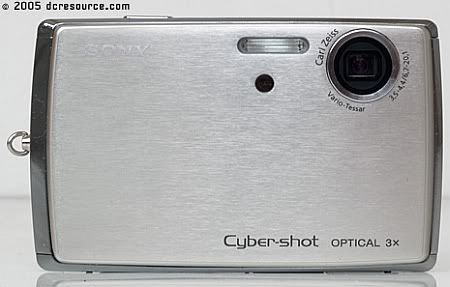 The Sony Cyber-shot DSC-T33 ($450) is the follow-up to the Cyber-shot DSC-T1, which was one of the most popular cameras of 2004. (Okay, there was a DSC-T3 too, but it was never sold here in the U.S.) The T33 doesn't change very much from the T1, aside from its refined body design and new "hybrid" LCD. The features from the old T1 that have carried over to the T33 include a 3X optical zoom lens, 5.1 Megapixel CCD, 2.5" LCD, and point-and-shoot operation.

The Sony Cyber-shot DSC-T33, like its predecessor, is best suited for outdoor photos, where it does a very good job. Indoor photos will leave much to be desired, thanks to a weak flash, lots of redeye, and an LCD which is too dark to see in those conditions. The T33 is a very stylish, ultra-thin metal camera that will attract attention wherever it goes. The design changes since the T1 are for the better: no more sliding door on the front, and the LCD is now much more usable outdoors. Like with the T1, you need to keep an eye on your fingers, as they can easily block the lens, flash, or microphone.

Photo quality on the T33 is generally good, though images could definitely be sharper (this seems to be a common issue with cameras that use this lens design). Camera performance is excellent. The T33 starts up quickly, focuses quickly (even in low light), there's no shutter lag, and shot-to-shot speeds are superb. The camera is 100% point-and-shoot, with no real manual controls to be found. Other nice features include a 1 cm macro mode, a first rate VGA movie mode, and support for USB 2.0 High Speed.

I already mentioned some of the T33's negatives in the previous paragraph, and here are a few more. There's no optical viewfinder on the camera, which will bother some people and not others. If you want to connect to a computer or a television, you must use the included camera dock. Similarly, the only tripod mount is found on the bottom of the camera dock, which is pretty awkward. The door covering the battery and memory card compartment seems very flimsy, as well. And finally: the DSC-T33 uses expensive Memory Stick Duo cards, so don't forget to factor that into the total purchase price.

If you want a "go anywhere" camera that will be used mostly outdoors, I definitely recommend the DSC-T33. If you'll be taking a lot of flash or low light shots, you'll do better with another camera.
Read the full article here...