Sigma
has announced three new lens. The 18-50mm f 3.5-5.6 DC, 55-200mm f4-5.6 DC and 24-70 f2.8 EX DG Macro. Corresponding mounts for these lenses are Sigma, Canon, Nikon, Konica Minolta and Four Thirds.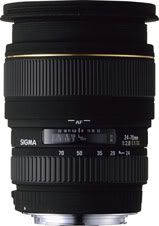 Exclusively designed to suit the characteristics of digital SLR cameras. The image circle was designed to match the size of the image sensors of most digital SLR cameras and this has resulted in a compact lightweight lens. The use of aspherical lenses provides correction for various aberrations and makes high quality images a reality throughout the entire zoom range. Corresponding AF Mounts: SIGMA SA mount
Click to read the rest of this article...